A five-part Odyssey across the nation – director Emily Lim discusses the Public Acts pilgrimage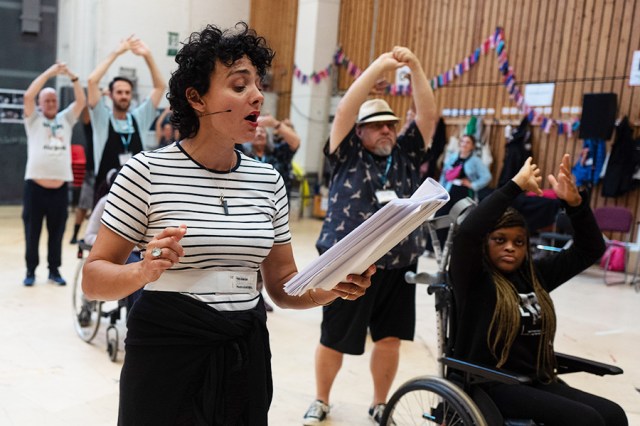 Public Acts has been a huge statement of intent for the National Theatre, under current artistic director Rufus Norris. Seeing collaborative work taken out across the nation, conceived by world-class creative teams and featuring community companies, this year's piece is a five-part version of The Odyssey, which reaches its final destination at the National Theatre this bank holiday weekend. Director Emily Lim explains more.
Can you tell us about this Public Acts version of The Odyssey?
We're creating an epic version of The Odyssey with theatres and communities across the country as a national act of storytelling and community building. The story has been broken down into five episodes – the first four episodes were created and performed by local community members and professional artists in Stoke, Doncaster, Trowbridge and Sunderland earlier this year. For this fifth and final show we'll be working with a company of over 150 people that combines people from all four partners with members of our London Public Acts community and four cameo performance groups from across the nation. It's a big moment!
For those who aren't aware, what is Public Acts?
Public Acts is the National Theatre's community programme that works in close partnership with theatres and community organisations across the nation to create ambitious, celebratory, radically inclusive and joyful acts of theatre. We work with our partners over a sustained period of time to ensure we're responding to each community in a way that is meaningful and bespoke. It's about making excellent theatre together as a way of better connecting with each other and our world. We like to think of the programme as a social and an artistic movement – something that's using theatre as a tool to drive towards a shared vision of a better, more inclusive and hopeful way of being in community together.
Why did you select The Odyssey as the story?
Odysseus is famous for being the 'most resilient of heroes', someone who manages never to give up despite so many challenges coming their way as they battle their way back home to their community. It's no coincidence that the idea grew during lockdown. We were really interested in the question of how we keep going against all the odds and Odysseus felt like the right hero for the moment! It's a story of trust, love, vulnerability, courage, family, separation, leadership, homecoming, community, and magic (!) – it's got something for everyone.
How have you interpreted Odysseus?
In our version she is a woman, a mother, a fierce warrior queen. We're still pinching ourselves that we've managed to bag the mighty Sharon Duncan-Brewster as our Odysseus, she is someone I would follow into battle any day!
How did the first four episodes go?
They were brilliant – vibrant, beautiful pieces of theatre reflecting the style and passion of the individual lead artists and the insights of our community members in each place. Audiences have commented on how moved they have been by the shows and how struck they have been by the effect of seeing a company made up of their neighbours, friends, fellow community members, perform together with such pride and confidence. One company member in Trowbridge talked about how they never thought that an opportunity like this would appear in Trowbridge. He described it as a "proper 'where were you?' moment" in the town – I'm so proud of this.
We've also had amazing responses to The Galley, our 10-metre-long bamboo ship designed by the wonderful Merv Millar, which has travelled with the story around the country, collecting messages of remembrance from members of the public.
How did you go about managing such a big team of collaborators?
It's a total privilege to be working with such an incredible, huge team across the country. The drive, determination, expertise and love that people are bringing to the work has been very inspiring. I think the key to it working so well so far has been everyone's sense of shared purpose – we all feel part of something bigger than ourselves and are so excited to learn from each other and come at this massive task as one team. I think that's the magic of this work, you're just one part of a whole – it's humbling and motivating. It's what our community members really value in their experience too: people feel valued, depended upon, seen, heard. Many of our company members haven't had this experience of connection, or these feelings of belonging, in their communities before. As artists we see it as our responsibility to create spaces where everyone gets to feel these things together.
How will it feel to bring it to the National Theatre?
It feels so brilliant and so appropriate that we are getting to showcase our community on this stage, that we're giving the National's biggest stage – one of the biggest stages in the country – to the country! Ours is a community of people who represent the full breadth of life lived on these isles. We have seven-year olds, 84-year-olds, six professional actors at the very top of their game who've been doing this for years and many people who've never done this before. After Pericles, our last show here at the NT, we were clear that if we ever got to do another show here it needed to not just be with a London community but with a national community. We're so proud that the National is putting this work and our community front and centre.
Why is this work so important?
Sadly, in the current climate, this work is under threat. It feels like it's never been more important to shine light on what it really means for everyone to have access to our theatres. This work is a vehicle for joy and gives power, voice, platform and visibility to people who absolutely deserve to be taking up space on our national stage. This work says you belong in the centre, your voice matters, your story matters. And, we mustn't forget, it's what theatres were always designed for, to be right in the centre of civic life. If we bring the best out of everyone, we're going to create something that people want to see, something that people are moved by and that helps people to rethink their world, our world.  Everyone deserves to have people believe they're capable of doing amazing things. Everyone has the right to have someone else expect things of them. This experience is not our gift to our community, this show will be their gift to us.