5 minutes with: Steffan Rhodri – 'Harry Potter was incredible, like nothing else'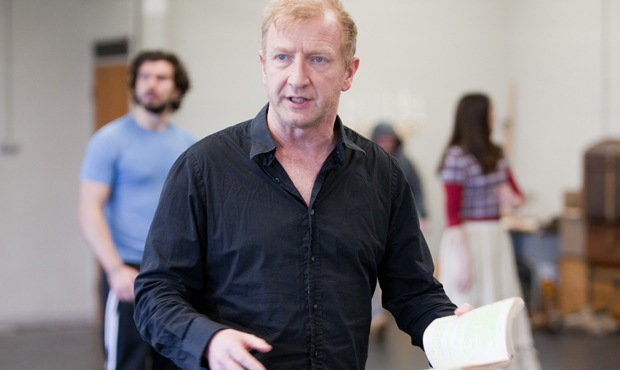 When I was 16 I joined the West Glamorgan Youth Theatre which is a fantastic facility for young people in Swansea. I wanted to pursue drama and performance in some way or another but I didn't have the confidence to go to a drama school and think, 'I'm going to be an actor'. I went on to do a degree in Drama and English and eventually got a job doing theatre in education and before I knew it really, I was doing it professionally.
Things changed dramatically when I came here to Theatr Clwyd. Terry Hands [artistic director from 1997 to 2015] had just taken over and was putting together a company of largely Welsh actors for his first season and asked me to be one of them. I'd worked quite happily throughout my twenties in theatre in education but things in my career changed from then on I would say. The opportunities that I was afforded here at Clwyd, what I learnt from Terry and other directors, the doors that then opened did change things for me.
Working on Harry Potter was incredible, like nothing else. The money that was spent on it in this country, they threw every resource at that series of films and quite rightly, they knew it was a cash cow, they were going to make it all back and more. So you were treated like royalty and that was nice. And a wonderful group of people as well, the director was just so creative and intelligent and inclusive and the regulars on it, the three heroes [Harry, Ron and Hermione] were wonderfully welcoming.
I think other people's perception of me changed after Gavin and Stacey. Ruth [Jones, writer of Gavin and Stacey] was a contemporary of mine at the National Youth Theatre of Wales so it was great, nearly 25 years later to get a phone call suggesting that I be in this new thing that she's written. We knew very little about it at first and then it became this huge phenomenon so it was crazy to be attached to that and to be recognised. Thankfully, the whole thing is loved so much that people are very friendly.
Stephen Merchant is very funny but – by his own admission I'm sure – he's not a stage actor. He'd never done a stage play before and that was very challenging in truth. He was very raw, inexperienced and I'm not going to say that he was out of his depth but there were times when he would probably have felt like that. I think it was quite a shocking experience for him. But it was fun, he's a lovely man and I got on very well with him. And it was great to be in such a high profile two-hander with Stephen in the smack bang middle of the West End with my face on the poster and my name in lights. My mum was thrilled!
Cyrano de Bergerac came about as an idea about eight years ago by myself and Phil Breen [the director]. We'd worked together several times and it was an idea I'd had because I love the story and I loved the Gérard Depardieu film and then the Steve Martin film based on it. I'd seen two productions of it, neither of which I'd particularly enjoyed but I just thought it had such potential. We're using the wonderful Anthony Burgess translation and we are working with Twm Morys, one of Wales' finest poets who's added in elements of Welsh language so it has a real Welsh flavour to it.
What we wanted to show within the play is how naturally the two languages here in Wales exist side by side. We felt it was important to use the elements of language to explore what expression means and how to express oneself in one's own language. It's been important to have a Welsh feel to this company, Clwyd is the biggest producing house of theatre in Wales so it has that feel of representing Wales and we wanted to continue with that.
---
Cyrano De Bergerac runs at Theatr Clwyd until 7 May.