5 minutes with: George Maguire – 'After Sunny Afternoon, I thought, what could follow that?'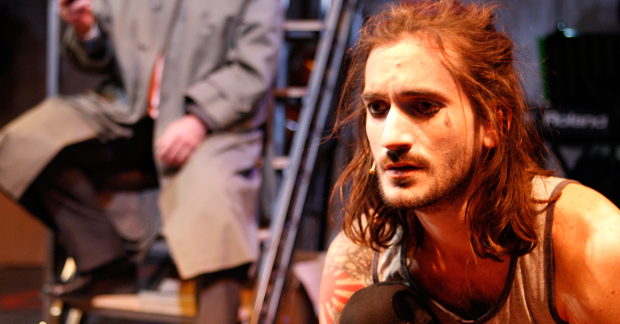 I got the real theatre bug whilst doing Oliver! with Jonathan Pryce at the London Palladium. I was around ten and I got the part from an open audition my dad took me to. There were around 500 boys, I always remember the queue going round the building from the Lyric Theatre all the way down the road and I thought, oh God. We had to sing "Consider Yourself" and amazingly I got in and I did it for two years running.
I didn't even know if I'd be asked back to the next workshop for Sunny Afternoon. I did three workshops before the Hampstead run and then it was a six week run there which was exciting but I think after having done this for a while, as any actor will tell you, you can never get excited about the things that definitely aren't there. You have to think in the present. But it just sort of kept exceeding our expectations, going into the West End, the Oliviers, it just kept getting better and better but I never really imagined it would do what it did.
I couldn't quite believe it when I won the Olivier. To just be in the nominations was shocking. We got to perform which was great but the moment that they actually announced my name, I really didn't know what to say. You're so unprepared, which probably showed in my speech. That moment before they announce the winner lasts forever, there's a camera on stage and you're trying to look cool and then I just sort of went right, OK, I've got to go up there now. You stand up there on your own on the stage at the Opera House with thousands of people looking at you and just talk. It's an overwhelming experience and all a bit of a blur but an amazing moment. He's on the mantelpiece on my fireplace in my bedroom now.
After Sunny Afternoon, I thought, 'what could follow that?' I was looking for something that was new and different, I definitely didn't want to go in to another long-running show. I've wanted to do some work at the Park Theatre for a while because it does some great stuff and with The Buskers Opera, it is all original music. My character [Macheath] is so interesting and the satirical message it has – I like the commentary on our society.
My character is sort of an anti-hero in the sense that the audience need to like him and love him but not necessarily agree with all of his actions. He's a bit of a rebel but he thinks he's doing things to make a change in the world, he thinks he's fighting for the poor and the weak but actually when it comes down to it, he's not actually putting his efforts in to the right places. He's just funny and quirky and he goes along this great journey in the play.
It does get annoying when I'm mixed up with George Maguire from Billy Elliot and I'm sure it does for him as well. There's no ill-feeling on my part but I actually legally have the name, I have it with Equity and Spotlight. It's the problem with the internet age we live in, once something's wrong online, it's kind of a constant thing you have to deal with. I'm working with a crack team of internet people who are trying to right the wrongs on Wikipedia etc. I mean, I don't mind being credited with Billy Elliot, it's a great show but I don't feel I should take the glory!
---
The Buskers Opera runs at the Park Theatre until 4 June. Click here for more information and tickets.