Dinosaur Zoo returns to region, 18 July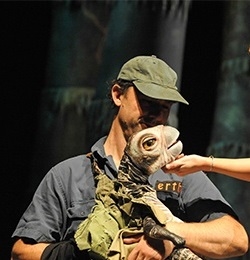 Dinosaur lovers will be able to get up close and personal to a host of prehistoric pals later this month, when the show Dinosaur Zoo roars into town.
Australian-based creators of the show Erth use ingenious puppetry to bring dinosaurs to life in this interactive live show which has played the West End.
Suitable for ages 3+ Dinosaur Zoo features a range of creatures from cute baby dinos to teeth-gnashing giants, including a carnivorous theropod known as the Australovenator, based on the most complete meat-eating dinosaur skeleton found in Australia.
The show also gives Intrepid audience members brave enough the chance to get up close and personal with the dinosaurs are brought onto the stage to assist the Zoo Keeper in his/her daily tasks – but be warned – not all of these ravenous reptiles are as tame as they seem!
Dinosaur Zoo played at Regent's Park Open-Air Theatre last summer, followed by a 22-venue UK tour. The show transferred to the West End for a 7-week Christmas season at the Phoenix Theatre prior to this year's spring tour – of which the 17 performances at the Palace Theatre is the culmination of.
Based in Sydney Australia, Erth create live theatre incorporating, amongst other disciplines, giant puppetry and inflatable environments. Erth has performed internationally at events and festivals, including the Sydney Olympic Games Opening Ceremony in 2000.
Dinosaur Zoo is directed by Scott Wright, designed by Steve Howarth and performed by Lindsey Chaplin, Tom Caley, Steve Peck and Kaitlyn Rogers. Dinosaur Zoo is presented in the UK by BOS Productions Ltd and Nick Brooke Ltd. The show is at the Palace Theatre from 18 – 26 July.