The Comedy of Errors at Shakespeare's Globe – review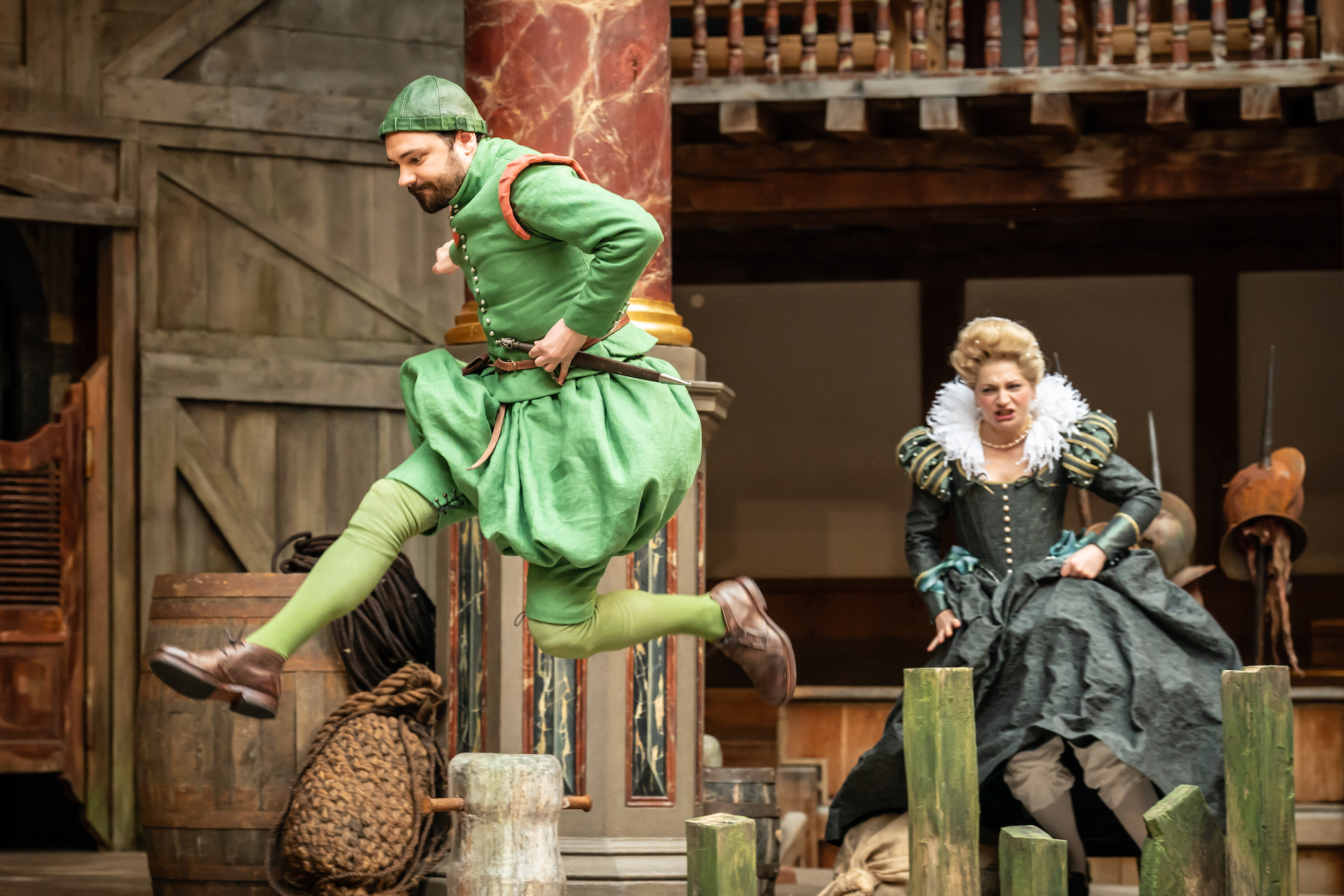 Based on an ancient Greek comedy by Plautus, Shakespeare's early work The Comedy of Errors can be seen as a trial run for his major plays as it features themes of loss, reconciliation, mistaken identity, near misses, madness and impending death presented within a framework of knockabout farce. Sean Holmes' vivacious production makes a convincing case for this minor work as fine entertainment in its own right, especially when performed on a clear evening with no noisy planes overhead for once.
The pre-show presence of musicians in Elizabethan dress with pink accents provides a sense of whimsicality combined with a commitment to transporting us to the late 16th century. Holmes stages a terrific opening tableau filled with flag-waving and chants in praise of the city of Ephesus and wishing death on the rival city of Syracuse. An executioner who seems to have stepped out of Paul Delaroche's painting The Execution of Lady Jane Grey hacks a head off, splattering a nun with blood, and next up is plaintive Syracuse merchant Egeon (Paul Rider), who has a tragic story about the loss of his wife and twin sons, and the gracious Duke of Ephesus (Philip Cumbus) offers the possibility of a reprieve.
Holmes carries the audience along with the convoluted plot and if not all the nuances come through, the general gist is sufficient. Being unable to tell Antipholus of Ephesus (Matthew Broome) and Antipholus of Syracuse (Michael Elcock), the 'posh' set of twins, apart is a stretch but both perform with elan and a nonchalant superiority. Laura Hanna as Antipholus of Ephesus' wife Adriana poignantly laments a marriage that has gone sour. The other pair of twins, servants Dromio of Ephesus (George Fouracres) and Dromio of Syracuse (Jordan Metcalfe), resembling brussels sprouts in their green outfits, do look like two peas in a pod as they struggle to balance their masters' competing demands. Fouracres, in the larger role, shows real flair as a Shakespearean character actor, especially in his "quoth I" speech. The supporting roles all get their chance to earn a laugh or two.
It's a real treat for the eyes with an exemplary array of Elizabethan-style costumes designed by Paul Wills and facilitated by a team of dyers, makers, sewers and supervisors. Holmes and movement director Tamsin Hurtado Clarke make full use of the Globe's unique space with a constant bustle of activity and Grant Olding's score is both jolly and menacing when it needs to be.
Shakespeare's shortest play playing at slightly under two hours straight through feels just right. The Comedy of Errors might not be Shakespeare's deepest work but this production showcases the Globe at its most joyous and 'authentic', and marks an excellent start to the outdoor theatre season.