Miriam Margolyes, Tracy Ann Oberman and more to feature in Park Theatre new season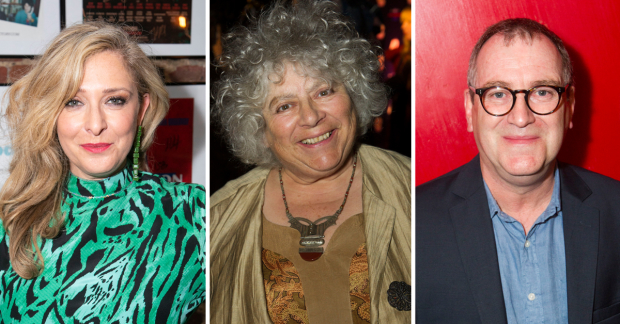 The new season at the Park Theatre has been announced, with appearances from Miriam Margolyes, Tracy Ann Oberman and Meaghan Martin.
Running from July to December, the season begins in Park 200 with The Time of Our Lives, from 30 July to 10 August. Bianca Bagatourian's play is directed by Ché Walker and is a history of the life of Howard Zinn, an American historian, professor and social activist, widely considered one of the most influential thinkers of the 20th century.
From 15 August, Alice Hamilton will direct Eugene O'Hare's The Weatherman'' which follows Beezer and O'Rourke who live on the fringes of society in a dingy London flat, struggling to make ends meet. Mark Hadfield will feature as part of the cast.
Oberman is to star in Evan Placey's Mother of Him, directed by Max Lindsay. Oberman plays Brenda, a single Jewish mother in the show, which runs from 18 September to 26 October.
Eugene O'Hare's Sydney & the Old Girl will open on 5 November, with previews from 31 October, starring Margolyes and Mark Hadfield. Directed by Phillip Breen, the show focuses on Nell and Sydney Stock, a mother and son who are at war, after 50 years cooped up in the same shabby east London house.
In December, The Snow Queen opens at the theatre's Christmas show, running until 4 January. Charles Way adapts the story from the original Hans Christian Andersen folk tale.
In Park 90, the venue's smaller space, The Actor's Nightmare will run with a cast including Meaghan Martin, Stefan Menaul and Kate Sumpter. Lydia Parker directs, with designs from Anna Driftmier. Playwright Christopher Durang explores the entertainment industry through satire and surreal comedy. The show runs from 16 July to 10 August.
Warheads will open in previews on 15 August and run until 7 September. The piece, which is based on a true story, follows follows 19 year old Miles who comes back from fighting in Afghanistan not quite himself. The show is written by Taz Skylar and Ross Berkeley Simpson, with spoken word by Suli Breaks. Toby Clarke a cast including Jahannah James, Sarah Naudi and Taz Skylar.
Black Chiffon will run from 18 September to 12 October, directed by Clive Brill. The piece is written by Lesley Storm and follows Mrs Alicia Christie who is keeping up appearances and who will stop at nothing to protect her family. Kate Barton's Fast also runs at Park 90, directed by Kate Valentine with a cast including Caroline Lawrie. The show runs from 15 October to 9 November with opening night on 16 October. It is about 'Dr' Linda Hazzard who advocated a fasting cure that gripped the press and divided a nation.
Stray Dogs, written by Olivia Olsen, will run between 13 and 7 December. The piece is set in Russia in 1940 where Anna Akhmatova, the most celebrated poet of her generation, is called upon by Stalin for a favour. The season ends with Martha, Josie and the Chinese Elvis runs from 11 December to 4 January, written by Charlotte Jones. With a soundtrack from Elvis, it follows dominatrix Josie, who is too tired to turn forty.