5 minutes with: Alex Hassell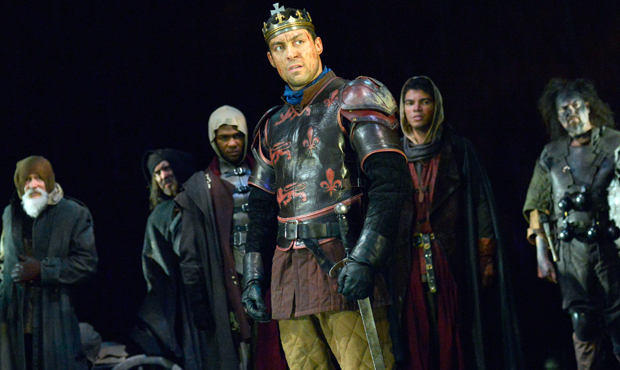 On top of leading the RSC production of Henry V and playing Hal in Henry IV Parts I and II, Alex Hassell is also the co-founding artistic director of theatre company The Factory.
As Henry V opens at the Barbican this evening, we caught up with Hassell to find out more about the man underneath the crown.
I was born in Southend and grew up in Chelmsford. I had no inkling that I had an interest in acting until I was about 12 and I was in a musical by the same people who wrote the theme tune to Neighbours. I instantly knew that was what I wanted to do – not to be in shows by famous theme tune writers, but to act. I started looking in the local papers for auditions and a local company were putting on Bugsy Malone, so I auditioned and got the part of Bugsy, unfortunately it hasn't been as easy as that since then.
At school I studied Hamlet with this brilliant teacher called Mrs Stroud and we decided that we wanted to put on a production of it. So I co-directed and played Hamlet at the age of 17. I've just loved Shakespeare and theatre in general since then. I've always been interested in getting into the juicy and difficult stuff.
I set up my own theatre company called The Factory in 2007. We just wanted to challenge ourselves, put ourselves in front of incredibly complex work. When you come out of drama school, unless you're very lucky, on the whole you don't get to do much complex acting because you have to work your way up. We wanted to do the sort of work that we got into acting to do. We started working on Hamlet and the whole thing ballooned from there, it's still going now and I'm very proud of it.
Henry V has been wonderful. It's the fifth time I've worked with Greg Doran now – and some other members of the company – and it's just a wonderful position to be in because we really know how to talk to each other and we have an understanding of each other. So it really felt like a collaboration, which was really gratifying. I love acting but I have a theatremaker in me, so to be able to collaborate was very exciting.
It's very interesting doing the cycle. We created Henry V out of the way that I played Hal. To get that depth of writing and the history in my consciousness of playing Henry as a younger man is very interesting and has hugely informed how we have done the other productions.
One thing I find exciting about working with the RSC is the history and the number of people who have played the parts I'm playing. To live up to their legacy, I find that very exciting, especially with a play like this that is about lineage and legacy and the pressure to live up to your ancestors, somehow I find that very palpable.
It's also interesting to do a production like this having had my own theatre company that has absolutely no money, to work on a production like this that is very well supported and has an incredible team around it, I'm learning a lot from that as a theatre maker.
I hope that people will be left feeling that there's a great complexity to the issues of the play. I think some people think of the play as being one thing or the other – pro-war or anti-war and what not – I hope that we are allowing the play to sit in as much of its fullness as we can, so that you feel culpable as an audience. I want people to come away feeling that you're not sure what you would've done or how you would've felt and that war is an incredibly complex issue.
Henry V runs at the Barbican until 24 January 2016 and is joined by Henry IV parts I & II next month.