Monty Python members reunite for mystery stage show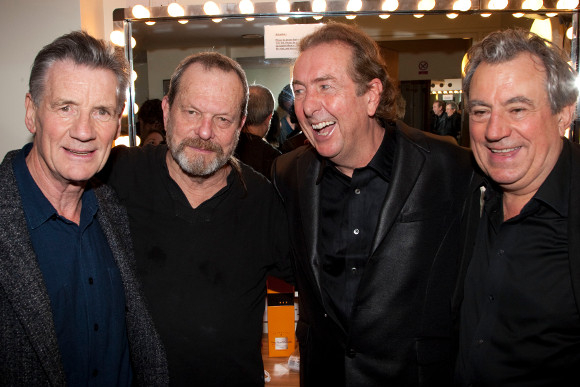 The five surviving members of Monty Python are reuniting for a new stage show, it has been reported.
Details of the show will be announced at a press conference on Thursday at the Playhouse Theatre – current home of Monty Python musical Spamalot.
"We're getting together and putting on a show – it's real," Terry Jones told the BBC. "I'm quite excited about it. I hope it makes us a lot of money. I hope to be able to pay off my mortgage!"
Jones will be joined at the conference by fellow Pythons John Cleese, Terry Gilliam, Terry Jones, Eric Idle and Michael Palin.
After rising to fame through their TV series Monty Python's Flying Circus, the group went on to make the films Monty Python and the Holy Grail (the basis for Spamalot), The Life of Brian and The Meaning of Life.
Idle's Life of Brian musical adaptation Not the Messiah (He's a Very Naughty Boy) – billed as "like Handel only funnier" – was remounted at the Royal Albert Hall in 2009 to celebrate the 40th anniversary of the first Monty Python broadcast.
Several of the Pythons have confirmed the news of the reunion, which was first reported by The Sun newspaper, on Twitter.
Only three days to go till the Python Press Conference. Make sure Python fans are alerted to the big forthcoming news event.
— Eric Idle (@EricIdle) November 18, 2013
— John Cleese News (@JohnCleeseNews) November 19, 2013
Look out for our coverage of the press conference on Thursday