Monty Python Live (mostly)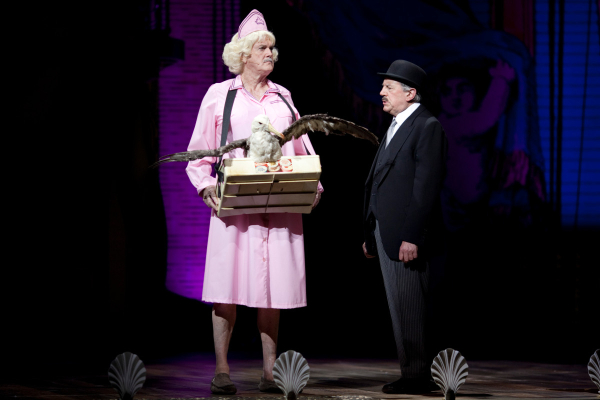 To call
Monty Python
the Beatles of comedy is no exaggeration. So this reunion show – their first performance together since the Hollywood Bowl gig in 1980 – is, despite being an obvious cash cow, something very significant indeed.
And the fans were out in force at the O2 for opening night, where Gumbys mingled with knights and the Spanish Inquisition were spotted in Frankie and Benny's.
But oh, what a disappointment they were in for. A tired, cynical rehash of some of their heroes' finest moments, interspersed with lengthy video clips to remind us all how good they used to be.
It starts fairly promisingly, with a jolly overture teasing us with glimpses of the classics to come – from "Sit on my Face" to "Every Sperm is Sacred" – followed by the arrival of the Pythons via a 'retardis', that swoops in from outer space after dispatching of missing member Graham Chapman.
After a photo opp (which, needless to say, the crowd took full advantage of), the real business begins with the Llama sketch, featuring 'seventh Python' Carol Cleveland, followed swiftly by the Four Yorkshiremen – which, if anything, works better performed by the now septuagenarian Pythons than it did back in the day.
"Most of the key sketches… struggle to be anything but pale imitations, lacking the anarchic fun they once evoked"
But soon we get bogged down in lengthy archive clips, shown on the three giant screens that dominate the vaudevillian stage. Despite the glimpses they afford of Terry Gilliam's animation magic, it's a shame to see such extensive screening of material that's readily available on YouTube (do we really need to watch the whole of the philosophers' football match?).
Arlene Phillips has neatly choreographed the ensemble numbers, enabling classics such as the Ministry of Silly Walks – which John Cleese is now too old to perform – to receive a nod. I was also delighted to see the brilliant camp marching sequence get an airing. But most of the key sketches – from the Albatross to the Dead Parrot – struggle to be anything but pale imitations, lacking the palpable sense of anarchic fun they once evoked.
It doesn't help that Terry Jones is obviously reading his script during the Spam and Chocolate Shop sketches, or that Cleese's voice sounds distinctly hoarse. Despite the energy injected by the ever-solid Michael Palin and Eric Idle, who reprises his "nudge nudge" routine and leads a rousing encore of "Always Look of the Bright Side of Life", the overall effect is a bit like watching your grandparents attempt to recreate a dance routine they last performed at their wedding.
Even a cameo from Stephen Fry – nipping on to tell us he has "rectally ingested" a lightbulb – failed to lift my spirits. This was the very first performance, and I'm sure things will warm up as the run goes on, but based on this evidence my advice would be to stay home and watch And Now for Something Completely Different.