Did Made in Dagenham strike a chord with critics?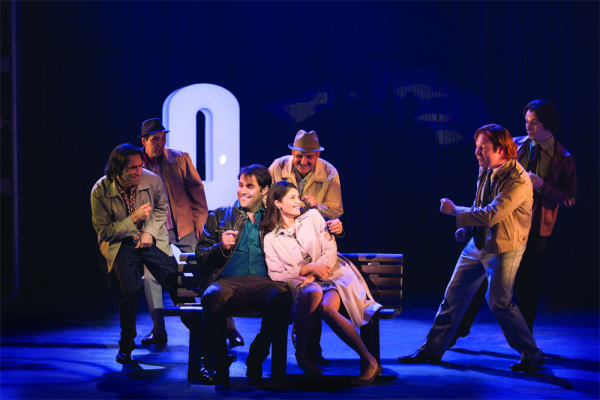 Michael Coveney

WhatsOnStage
★★★
This ebullient and sleekly presented home-grown riposte about the female machinists' strike over equal pay at the Dagenham Ford motor plant in 1968 feels like both an update and a re-run… Gemma Arterton is absolutely terrific as Rita O'Grady… David Arnold, who wrote the music for the film, has, with director Rupert Goold, librettist Richard Bean and lyricist Richard Thomas [whom] created a traditional working class musical about industrial action that sits worthily alongside Billy Elliot… you do have a good time even when half the songs fizzle out before they land… Mark Hadfield's cringing Huddersfield PM, glued to his Gannex mac, and extending his furrowed brow right through his body, is a delight… Tight choreography is by Aletta Collins… There are eye-catching contributions, too, from Sophie Stanton as a Cockney cow with udders above her station and Adrian Der Gregorian as Rita's self-pitying but finally supportive husband.
Dominic Cavendish

Daily Telegraph
★★★
The creative team that has brought Made in Dagenham to the West End stage, turning one of the most loved British films of recent years into one of the most hotly anticipated new shows in town, certainly can't be said to stint us on surprises or fun… While it's perfectly engaging, the upbeat tone becomes faintly monotonous and the story is short on dramatic mileage… Former Bond girl Arterton possesses a fine singing voice, beauty and a commanding presence… the show never digs that deep into its characters, flashes surprising amounts of female flesh considering it's flying the flag for empowerment, and would have been better off recycling some of the more memorable chart hits of the period; stand-out songs are scarce…. Yes, it has its heart in the right place, the period costumes are fab and there's superb support, not least from Mark Hadfield as a hyper-angsty Harold Wilson, Naomi Frederick as the boss' wife who befriends the strikers, and Sophie-Louise Dann as a knock-out Barbara Castle… Despite celebrating how a bunch of workers found their voice, the evening lacks a truly compelling one of its own
Paul Taylor
Independent
★★★★
This show – with its slick, catchy tunes by David Arnold, Richard Thomas's droll, mischievous lyrics and a positively gag-infested book by Richard Bean – infectiously demonstrates that it's a saga well worth making a song and dance about… Unfolding on Bunny Christie's ingeniously adaptable air-fix set, Rupert Goold's bouncy production sweeps you between moods that range from Ready Steady Go!-meets-The Rag Trade to the heartfelt, galvanising climaxes to each act… Gemma Arterton can't disguise the natural glamour that is rather anomalous for the main part of Rita O'Grady… The trouble with the piece is that any serious emotion has insufficient breathing space… There's an overloading of humour, the breadth of which is sometimes more notable than its bite or pertinence… Sophie-Louise Dann's "fiery-haired" Barbara Castle (for it is she) has more than a lewd touch of late… the uneven but captivating Made in Dagenham is a West End musical you can be pleased to acknowledge was "made in Britain".
Michael Billington
Guardian
★★
Everyone in Richard Bean's book seems to speak from the same gag-book… That note of relentless jokiness carries over into Richard Thomas' lyrics. Almost every line seems straining for a laugh… By crudely mocking the managerial top brass, the show diminishes the women's victory… Much as I admire Gemma Arterton, she also radiates such allure as Rita that you never feel the character is undergoing a spectacular transformation from humdrum machinist to instinctive leader… I blame the book, and Rupert Goold's direction, rather than Arterton… Bunny Christie's design makes good use of the Ford plant's industrial machinery… David Arnold's score, it is because it rarely rises above the functional and, like the show itself, strikes a feminist posture but lacks genuine passion.
Dominic Maxwell

The Times
★★★
Made in Dagenham comes so close to being an all-out success… Gemma Arterton is vulnerable and defiant and sings beautifully in the lead role of Rita O'Grady… Bunny Christie's inventive design puts the real events of 1968 against an industrial backdrop that looks like a giant model kit… David Arnold's score, full of Sixties pastiche, is perky and versatile… While Rupert Goold's colourful production has more character than eight out of ten factory-built West End shows, it lacks the strict quality-control procedures that would take it from good to great… Made in Dagenham is never dull… the songs swell but stop short of breaking your heart… I smiled, my foot tapped, I even cheered, yet my mascara never ran… Aletta Collins' choreography is full of lush pleasures, none better than the cheesy Cortina advert, complete with spot-on faux-luxe music by Arnold… Made in Dagenham has so much going for it, it just needs more precision tooling to become more than the sum of its parts.
Henry Hitchings

Evening Standard
★★★★
Arterton is radiant as Rita, a perky machinist at the Ford plant in Dagenham who becomes a mouthpiece for women demanding equal pay. It's a performance rich in wit and vocal confidence, and there is appealing work around her… Richard Thomas' lyrics are mischievous. Richard Bean's book is packed with jokes – some of them decidedly retro, others fizzing with his trademark salty humour… Made in Dagenham is broad, occasionally crass and a little too manipulative (the final number is an especially brazen bid to get us on our feet). But it also manages to be robustly likeable – mixing passionate populism with bursts of big-budget flamboyance. Although I'm not convinced that it is in the end greater than the sum of its parts, those parts are pretty impressive.