Daytona's Maureen Lipman: 'This is unquestionably the best role I've ever had'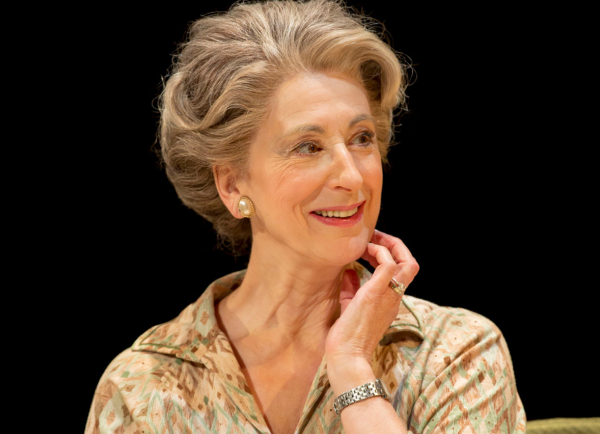 Could you give us an overview of Daytona?
It's a difficult play to sell without giving too much away. But it concerns a couple in their 70s in New York, who are practising for a ballroom dancing competition. And they're scrappy, they never stop arguing, but you feel that underneath there's some warmth. And when she goes to get her dress, his brother – who has been presumed dead for 30 years – turns up at the house. He's on the run having committed an act of retribution in a Florida hotel, where he's seen somebody from his past. The husband certainly doesn't want to see him, and he certainly doesn't want him back in the flat where his wife is. So that's the set up. It's about love, betrayal, retribution, and ballroom dancing.
Was it Oliver Cotton that persuaded you to get involved?
I didn't know him until I directed Barefoot in the Park with him on a national tour. And during the course of the rehearsals we talked about his writing and he said he had a play in the drawer, so I said, "Let's have a look at it." I thought it was terrific, and I showed it to Jez Bond who was launching the Park Theatre. He said, "I'll do it if you're in it", and eventually he persuaded me. We had six very successful weeks at the Park earlier this year, and had a short regional tour before coming into the West End.
How's it working with Oliver on stage, and with Harry Shearer?
They're both great. Oliver's obviously an experienced stage actor, and though Harry isn't really a theatre animal he loves and thrives on it. It was wonderful when we learned of the transfer because none of us wanted it to end – three old buggers on the road, it's quite good fun.
Did you have ballroom dancing lessons?
Harry and I worked with a dancer called Matt Flint – he's a choreographer on Strictly Come Dancing. He immediately saw that we're pretty piss poor. Harry is a musician, so he can at least count. And I can very skilfully make it look as if it's him who's gone wrong. It's only a minute or so on stage but believe me, when you're on a raked stage in heels that can really last a long time.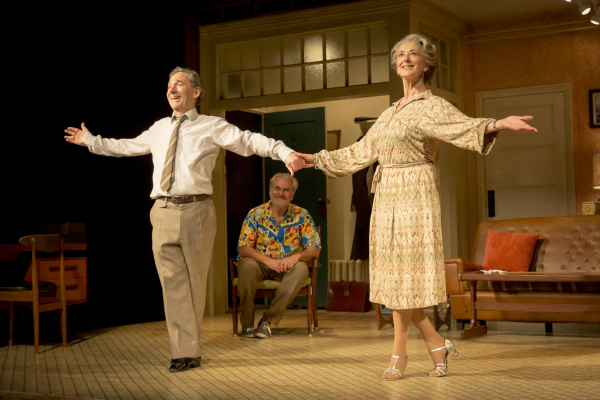 There's much talk of the lack of roles for older women – what do you make of it?
I don't know about this thing with no roles for women. I seem to see nothing but women on the television, but maybe that's because I'm not on it! I see women detectives, women coroners, women rabbis. It's full of women. What's the complaint? This is a business where 85% are unemployed – men and women. And there are a lot more opportunities for women in many respects because women are increasingly playing men's roles. There will always be room for improvement, but I don't think it's bad.
Would you like to do an all-female Shakespeare?
I think about playing King Lear every day. My agent did say to me "I want to put you up for Polonius in the all-female Hamlet." I said "give us a break, he's dead before the second page". The parts for Shakespeare are great but I would always rather do a new play. I would rather create a role than recreate one. And my role in Daytona is unquestionably the best part I've ever had.
Of the many other roles you have created over the years, are there any that stand out?
I suppose the thing I'm most proud of is Re: Joyce!. People loved Re: Joyce! and I did it on and off for five years, so that was really a high point. And Glorious was, well, glorious. It was a very funny play. Princess Alexander was told to shut up because she was crying with laughter. There is something very different about being in a palpable hit and it doesn't happen all that many times. When you're in a hit, the world comes to your door – from the England football team to the Queen.
I'm intrigued to know which show the England football team came to
Well that was not technically a show. They came onto the set of Carry on Columbus and scooped up all the young actresses.
You've played many of the West End playhouses but this is your first time at the Haymarket
Indeed. I've walked passed it my whole life thinking, 'I must, must play that theatre.' And I've actually got a killer dressing room like I've never had. I'm used to perching on a stool with six other people, so this is just heaven. It's got a fridge and a sofa and a bed – if there was an affair to be had, I could have it in there! In fact I could happily live in it.
Do you still get as much pleasure from being on stage as you used to?
I've always just wanted to get on stage and be someone else, that has never changed. But I've always been terrified by it. I remember once I was waiting to go on stage at a small theatre in Manchester and I just froze, I couldn't do it. My late husband Jack [Rosenthal] came especially to hold my hand, so of course I went on and did it. But if anything my terror has increased over time. I suppose it's a healthy fear.
So what does the future hold?
There's never been a plan. I work out of chaos. I write a few columns for magazines, and I bob along with the bits and pieces. I have a granddaughter I adore, and I love my courtyard garden with my dog and my rabbit. I hope things stay vaguely as they are. The only thing I would really, really like to do before I go to that great phone box in the sky is to take this play to America. I've never done Broadway or off-Broadway and I would just love that.