Eugene Onegin (Barbican Theatre) – 'mordant, melancholy and beautiful'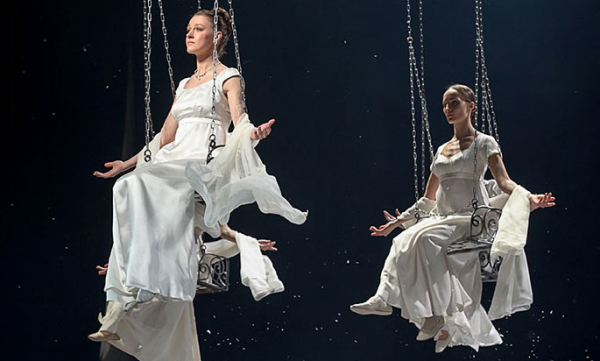 There are only four performances this week of this stunning production from Moscow's Vakhhtangov State Academic Theatre so the matter is urgent: the staging of Pushkin's great verse novel is mordant, melancholy and beautiful; the acting impassioned and eloquent; and the sense of "Russianness" unarguable – the verse form is retained, the musicality intact, surtitles efficiently projected.
This is the company that visited the West End just over two years ago with an Uncle Vanya that wiped the floor with a few home-grown versions in the same season, demonstrating that authentic, emotionally weighted and delivered Chekhov was not best served by hide-bound naturalism or po-faced anti-theatricality within familiar domestic bounds.
The director Rimas Tuminas places the action in a large dance studio, backed with mirrors and drapes, giving an effect of "performance" and an echo chamber to the central quadrille: Tatyana loves the feckless dandy Onegin who rejects her; he in turn dallies with Tatyana's older sister, the coquettish Olga, to spite his friend Lensky; there's a duel; years later, Onegin realises that he loves Tatyana, now married to a military general, after all, and she rejects him.
The time sequence is collapsed, with younger and older versions of Onegin and Lensky occupying the stage at the same time, a ballet troupe rehearsing their interpretation of the story and Tatyana experiencing the series of dilemmas and upheavals as if in a dream, attended by a huge Russian bear, young girls in long dresses suspended on swings, snow falling, music blaring, actors dancing.
To isolate the physical elements of the production might be asking for trouble. But there's a fluency and magic to the staging, even with the pronounced irruptions of folk music, Tchaikovsky and Offenbach, which defies objections. There's a sense of a nation on the move as well as of hearts in turmoil. Tuminas adds in extraneous characters not featured in the novel and a parallel story, reflecting an incident in Pushkin's life, that almost implicated him in the Decembrist uprising of 1825.
As in his company's Uncle Vanya, Tuminas reveals himself to be a master of stage poetry, achieving that unique Russian synthesis of physical action, music, lights and design (by Adomas Jacovskis) that is the antithesis of the Brechtian approach, yet full, too, of vaudevillian and gestural grandeur, sardonic demonstration and high flying vocal and emotional magnificence.
The actors, as in all the best Russian companies we have seen from Moscow and the Rustaveli in Georgia, are not relegated by "effects" but enhanced by them. Their style is not dated, but timeless. It's a kind of theatre, and of acting, that we see all too rarely. There's even the voice of the greatest Russian screen Hamlet, Innokenti Smoktunovsky, who died twenty years ago, vying for our attention on the soundtrack with Tchaikovsky and Shostakovich.
Eugene Onegin runs at the Barbican Theatre until 21 February