Zach Borichevsky discusses his UK debut for Glyndebourne Tour
Who or what are the greatest musical influences in your life?
To listen, I have to say Luciano Pavarotti (such a combination of elegance and passion in his singing), The Beatles (The White Album and Abbey Road are the genesis of my musical awakening), and Mozart (almost every work is a masterpiece, which to me means that removing or adding anything diminishes it). As for learning music, I have worked with too many great musicians to mention them all, but Christofer Macatsoris of the Academy of Vocal Arts gave me my first detailed look into intense, natural musicality.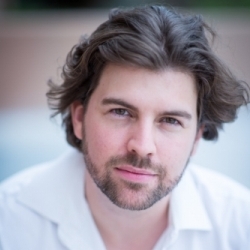 When did you realise that you wanted to pursue a career as a professional singer?
For me, deciding on a career path was a matter of narrowing down my unwieldy broad interests. In school, I formally studied many of them: politics, economics, history, literature, physics, astronomy and maths alongside omnipresent music and theatre. After many years, I concluded that opera was my best chance at leaving a positive imprint on the world because it allows me to harness a natural talent in a field that is intellectually and spiritually fulfilling.
Intellectually, opera combines many of my otherwise divergent interests. These past few months I've been poring over probably the most influential work of Russian literature, Eugene Onegin (preparing the role of Lensky), while also learning about 17th century Scottish politics to understand Edgardo's motivations in Lucia di Lammermoor. Spiritually, opera is the most direct form of communion that I have found in art. To me, art is communication. The greatest opera composers exploit vast musical forces to communicate truths about life and love and death, but at its core opera is as direct a communication as we can get: one person uses his body to make a sound that another person hears and feels. The visceral sense of communion that this simple act can create is what moves me to keep working as hard as I can to keep opera alive. My parents always taught me to leave the world a better place than I found it, and singing is how I hope to do just that.
You're currently appearing as Alfredo in La traviata for Glyndebourne Tour in Tom Cairns's modern-dress staging; what new insights has this production brought to your interpretation of the role?
The reason that Traviata remains one of the most performed operas today is that its content is timeless, and Tom's vision really emphasises that. Removing the distraction of period costumes focuses attention on the interaction of the personalities on stage, rather than the interaction of historical archetypes. It is wonderful to have the freedom to examine Alfredo's psychology without worrying about how he would comport himself in Parisian society of the 18th century. After all, Verdi wanted to set the opera in the present when he composed it, and only agreed to move it to the past after the authorities objected.
When performing a role which contains some of Verdi's most instantly recognisable arias how difficult is it to maintain a freshness to it?
It's easier than you might think because what Verdi actually wrote is often much more difficult to sing than what you hear most of the time. In all my preparation listenings, I have never heard the 'Brindisi' (one of the most famous tunes in all of opera) performed exactly as written: the champagne bubble-evoking florid figure actually has seven notes in quick succession, whereas most singers abridge it down to six and a smudge. (Actually, my predecessor in this production, Michael Fabiano, handles that section as cleanly as any tenor I can remember hearing.) Staying focused on what Verdi wrote ensures that we end up creating our own interpretation, rather than just recreating a past one.
This is your UK debut; what has it been like so far rehearsing and performing at Glyndebourne?
Glyndebourne is such a serene place to work¬-there is no better lunch spot than out on the lawn surrounded by the beautiful rolling hills in Sussex. But the people are what make a place special, and everyone here has been inspiring to work with. I'm really looking forward to working with them for another two months – an eternity in this career!
What roles are you most looking forward to singing and why?
I tend to be most excited about what I'm working on at the moment, so I'm very excited about Lensky and Edgardo. Lensky's aria was the first piece of music that I really felt I could perform securely with conviction as an artist, and Lucia will be my professional debut in Donizetti, a composer who forces you to sing with passion and elegance (which is why Pavarotti is so valuable and fulfilling to listen to).
What advice would you give to any singers wanting to follow you into this profession?
Be prepared for a peripatetic life: learn to cook, learn to navigate, and learn to adapt quickly to new environments.
What has been the best advice you've received when starting your professional career?
Never stop learning, and stand up straight!
If you were stranded on a desert island, and allowed one musical score which would you take with you and why?
It has to be Bohème (and the full orchestral score, please) because I know it well enough to hear it all in my head just by looking at it. I could entertain myself for at least a few months by singing through every role and every instrument, while constructing my boat, of course.