West End cast announced for Peter Pan Goes Wrong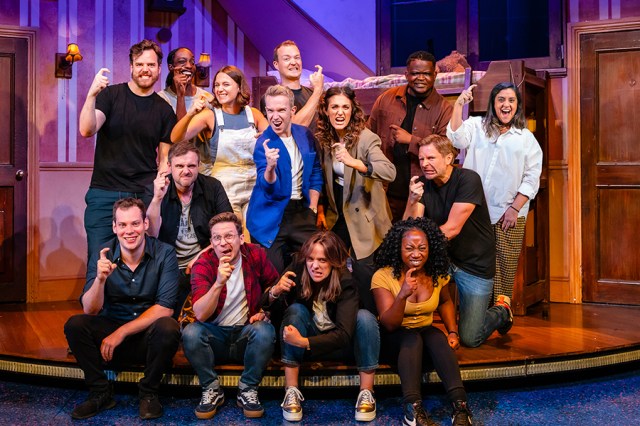 West End casting has been confirmed for Peter Pan Goes Wrong, which plays a limited run at the Lyric Theatre this festive season.
Running this Christmas (Thursday 23 November 2023 to Sunday 14 January 2024), the show is co-penned by Mischief's Henry Lewis, Jonathan Sayer and Henry Shields.The play sees the 'Cornley Drama Society' attempting to present J M Barrie's much-loved tale – with disastrous consequences.
Returning to the West End following runs on Broadway and in Los Angeles are Matthew Cavendish (Max), Harry Kershaw (Chris), Chris Leask (Trevor), Ellie Morris (Lucy), Charlie Russell (Sandra), Greg Tannahill (Jonathan), and Nancy Zamit (Annie, 23 Nov to 17 Dec and 11 to 14 Jan). They are joined by the current UK touring cast Jamie Birkett (Annie, 19 Dec to 10 Jan), Clark Devlin (Dennis), Matthew Howell (Robert) and Jean-Luke Worrell (Francis). The company is completed by Romeo Mika, Clare Noy, Consuela Rolle, and Phil Yarrow.
Peter Pan Goes Wrong has been staged in two West End seasons, a tour of Australia and New Zealand and two major UK tours. Original members of the Mischief company have just completed hugely successful Broadway and Los Angeles seasons of the production, winning the Drama Desk Award for Unique Theatrical Experience.
It is directed by Adam Meggido, with associate director Fred Gray, set designs by Simon Scullion, costumes by Roberto Surace, lighting by Matt Haskins and sound by Ella Wahlström. Original music is by Rob Falconer and Richard Baker.
The show has just begun a 6 month UK tour, visiting venues around the country until April 2024.