Waiting For Godot (Arcola Theatre)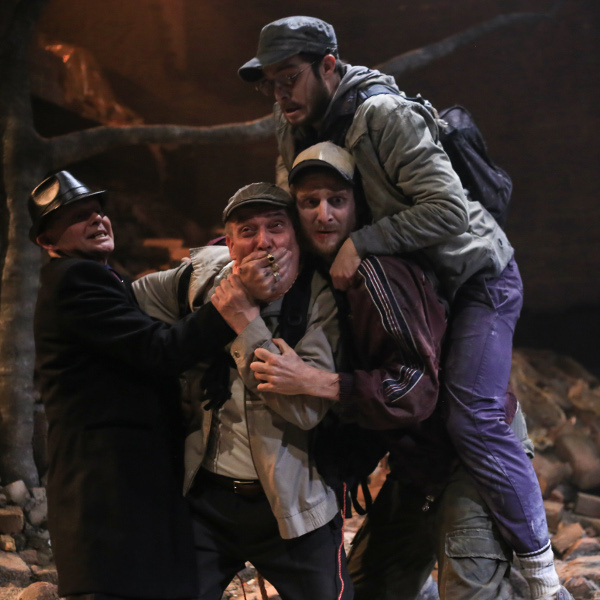 Comedians have always been pulled towards Beckett's breakthrough play: two old vaudevillians at the side of the road wait for a man who never comes and fill in the time with routines, jokes and insults. They can't go till he comes and they can't move because he never comes. It's Groundhog Day with existential overtones.
This Arcola revival offers BBC3 comedy double act and Edinburgh festival fringe favourites Totally Tom – becalmed, bespectacled Tom Palmer as Vladimir, and strikingly tall and very watchable Tom Stourton (son of posh BBC news reporter Ed Stourton), by far the better actor, as Estragon – directed by their quondam Eton schoolmaster and Cheek by Jowl veteran Simon Dormandy.
Which clown should be which? Max Wall was a tremendous Vladimir, or Didi, while Bert Lahr, the Cowardly Lion, fixed on Estragon, or Gogo, the one with troublesome feet. Stourton's Gogo is the dominant busker, or top banana, while Palmer's Didi is a bespectacled and totally impenetrable back-up. They are an engaging, quizzical double-act, which is really what Beckett was writing about, but this Gogo is the more put-upon, more immediately explosive and expressive. It's a moment of terrible poignancy when Didi wonders if they wouldn't have been better off alone.
Eric without Ernie, Mike without Bernie, Hale without Pace, Mitchell without Webb? The two Toms are the latest of potent comedy duos thriving on the genius of one and the stolid echo chamber of the other. And they do so trapped in a play which yields new meanings with every phrase, even if one of them is an ironic, earth-thudding platitude: "How time flies when you're having fun".
Both sport baseball caps and face hair, young drop-outs on the non-careerist treadmill. Their youth, in fact, makes nonsense of half the play's meaning. Still, Dormandy's production gains enormously from a set by Patrick Kinmonth (beautifully lit by Peter Lundin, with musical rain drips by David Gregory) which places them in a cascade of brick and rubble, something like a bizarre architectural wedding train, surrounded by mud and puddles, while the action unfolds – in a play where nothing happens twice – in the passing visit of a cruel capitalist, Pozzo, and his lapdog lackey Lucky.
These two, too, really are different from the normal versions: Jonathan Oliver's Pozzo is a slimmed-down shouting wide boy (OK, thin boy) in a waistcoat, leather pork pie hat and cheap bling, while Michael Roberts as Lucky is an ancient retainer giving his great memorial speech with poetic deliberation, not as an incomprehensible tumult, and flopping to the ground in an illuminated bicycle helmet.
Even Beckett himself never got the pace of the play right in his own fabled Berlin production – my favourite version remains my first, starring Nicol Williamson and Alfie Lynch, directed by Anthony Page, at the Royal Court – but I enjoyed the cast poking around in the text, the magnetic Stourton drawn into an Irish accent despite himself and Palmer suddenly and unexpectedly exploding into a rant.
Nothing in the play is taken for granted: even the messenger boy is freshly done by Adam Charteris as an Eastern European farm hand in a black T-shirt, the rising and setting of the sun intimated through a remote window.