Visitors (Arcola Theatre)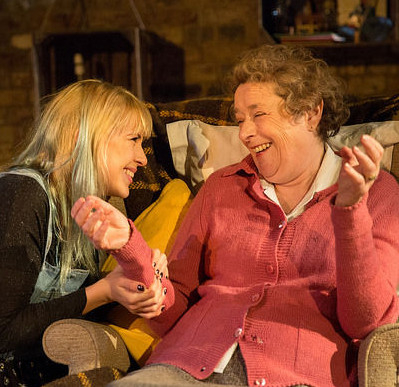 There's a very fine scene just before the interval in Visitors when the middle aged son of an elderly couple tells his father a long crass joke about hell.
It's horribly inappropriate, not least because he's only visiting his parents' home in order to help arrange his mother's dementia care (she's suffering the early stages of the illness and unarticulated thoughts of death marinade their world). His parents are also Christians, and though far from evangelical, they are sufficiently genteel to find his swearing offensive, as he well knows.
The father, who has worked a long day on his farm, isn't interested and continues with his chores, even leaving the stage at one point. Yet his son, almost feverishly, continues to track him. He can't help himself. His joke is part defiance, part goading, part anguished despair; but his father does not rise to it. Obliquely the scene captures a relationship, which we can imagine has contained decades of mutual antipathy and frustration.
It's a subtle piece of writing typical of Barney Norris' assured and affecting first full length play that covers a lot of ground without ever leaving the living room where Edie (Linda Bassett) and Arthur (Robin Soans) have spent the majority of their evenings throughout the previous 40 years. With Edie's illness worsening the couple come to rely on carer Kate (Eleanor Wyld, excellent as a directionless graduate) and their resentful, awkward son Stephen (Simon Muller) who at first seems to see his mother's illness as an irritating problem similar to those he faces in his job in life insurance.
Edie's decline is poignantly handled. Both Basset and Soans give beautifully unfussy, nuanced performances as the couple aware of how much they will soon lose. These are counterpointed intelligently by Muller who gives son Steven moments of awkward self-consciousness. Alice Hamilton's direction is also thoughtful and restrained – although there is one moment of soft-pedalling when one of the props, a bunch of plastic bags intended to protect Edie's chair from incontinence, seem much too lightweight for the role they're meant to perform.
Norris has written previously about placing love and sorrow as motivating emotions ahead of anger, and there's a striking and unusual depth and compassion to Visitors. If occasionally it's a little soft at the edges (Edie's equanimity seems to cancel any thoughts of rage or despair, and the frustration of carer's work also seems downplayed) it still captures how dementia is a gruesome challenge to both its victims and their families. Like John Updike, whose first novel The Poorhouse Fair was set in an old people's home, Norris has made the unusual choice of focusing on the elderly in his debut work. That this play doesn't suffer by that comparison, suggests that he is writer to watch.
Visitors continues at the Arcola until 29 March