tutti frutti to represent the UK at Assitej World Congress in May
Leeds theatre company tutti frutti's acclaimed 2012 production of Rapunzel has been selected to be showcased at the prestigious 18th ASSITEJ World Congress in Warsaw in late May.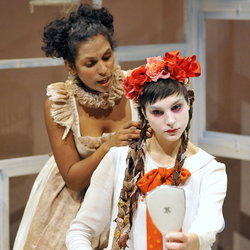 The company, which is currently on tour with its production of Monday's Child, which has been selected to be part of this year's Yorkshire Festival, will be the only theatre company representing the UK at the congress which showcases the best theatre for young children from around the world.
ASSITEJ, the International Association of Theatre for Children and Young People, (Association Internationale du Théâtre de l'Enfance et la Jeunesse) was established in 1965 as an international alliance of professionals involved in theatre for children and young people.
The congress, which takes place every three years, is a showcase for some of the best theatre for children from across the world to be performed as well as the sharing of practice through workshops, and seminars and opportunities to network with international colleagues. tutti frutti is one of 22 companies chosen from the best children's theatre from around the world to perform at the Congress.
Rapunzel was adapted for the stage by well-known children's playwright Mike Kenny, and the production toured the UK in autumn 2012.
tutti frutti's artistic director Wendy Harris said about the news, "tutti frutti is absolutely thrilled to have been selected for a prestigious place on this world stage and we look forward to both showing our work to our international partners but also to engaging in conversation with them.
We are proud to be representing child-friendly Leeds, Yorkshire with its wonderful 100 day Yorkshire Festival 2014 and indeed as the only Company from the UK performing at the congress alongside 22 other companies from across the world."
The 18th Assitej World Congress will take place in Warsaw from the 23-31 May 2014