Triptych (The Print Room)
The title of Opera Erratica's unconnected trilogy is borrowed from Puccini's Il trittico and, like Il tabarro, Suor Angelica and Gianni Schicchi, it comprises a trio of short operas: two tragedies (one with nuns) and a comedy. Beyond that, though, the Italian connection is little more than a hook on which to hang a show.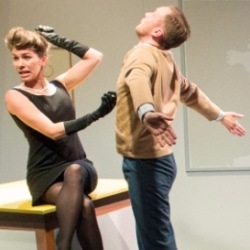 Only one of the three new pieces that make up Triptych can be deemed an out-and-out success and that, perhaps surprisingly for a self-styled 'experimental' opera company, is the comedy, A Party. Belgian composer Thomas Smetryns and the company's director-librettist Patrick Eakin Young have fashioned a wild musical fantasy from one of those ancient long-playing record language courses. What begins straightforwardly enough with rote-learning exercises ("My tailor is rich") ends with a cast of Ionesco-like phantom characters acting out an awfully articulate orgy in which the word 'presently' provokes much mirth.
The music in A Party is a long time coming, but when presently it does Smetryns dares to feature harmonies of lyrical immediacy as well as some elaborate interplay between speech and singing. It helps that the five singers of Opera Erratica are all so agile of body and voice, and that they have achieved such a complete mastery of the score's intricacies. Catherine Carter, Lucy Goddard, Callie Swarbrick, Kate Symonds-Joy and the sole male, Oskar McCarthy, give pitch-perfect performances against pre-recorded accompaniments throughout the evening's hour-and-a-bit running time.
They also get their kit off rather a lot, although there's nothing particularly experimental about that. Rather, along with the roving videocam that flavours the opening piece, Reunion, it points to a paucity of visual invention that's only partially offset by Gavin Turk's modishly attractive flat-wall designs.
Christian Mason's composition juxtaposes a young postulant's investiture with a (possibly related) memory interview. Like Christopher Mayo's closing work, The Tall Office Building Artistically Considered, it's interesting as music but it isn't opera, and Young, who co-authored both with Orlando Wells, struggles to find a viable dramatic form for either piece.
Mayo's programme note shows he is clearly passionate about the life of Richard Nickel, an American whose obsession with the work of an earlier architect led to his own life ending in a moment of poetic irony, but unfortunately the verbose narrative doesn't have a theatrical bone in its skeleton. The music, though original and professionally crafted, is a hindrance rather than an illumination when there are so many words to absorb.
But it's worth going along, if only for A Party. That hogs the lion's share of a short, chic evening and it deserves to be enjoyed by a wide audience. Presently.
– Triptych plays at The Print Room until 7 June, then at Wilton's Music Hall on 9 & 10 June for a further four performances as part of the Spitalfields Music Summer Festival.