Theatre etiquette: an usher's viewpoint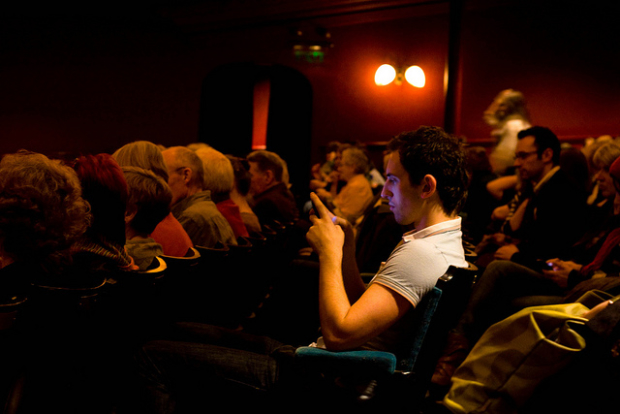 I've worked on several West End shows and often it's the school parties that are the trickiest as there's no set way of dealing with them. Some schools are brilliant. Most are awful. Schools need common sense when they bring children on outings and should be prepared to be flexible if the theatre staff asks certain things of them. I think a letter should go out before they come explaining how that theatre works: you will get a ticket, you will sit in that seat, you can't just sit anywhere, it's not the cinema. There isn't any of
that. We need more preparation.
The extreme examples are when groups just come in with a wedge of tickets and children trailing behind them and a few haphazard adults who are basically on a day out. It's impractical and they get very angry when they can't be accommodated by us in the way they'd envisaged. I once got called a stuck up cow in front of a party of children. The teacher had turned up late and I had explained to her that she would have to wait to get into the show, so, in-front of all her pupils, she called me that.
There generally isn't enough support for front of house staff. It's thought that one duty manager and two theatre managers, at best, per show is enough. But at a huge top heavy theatre on a matinee day it's not enough. And they're regularly understaffed. What is forgotten by certain theatre venues and front of houses is that we are supposed to be the cream of the world's entertainment. We are paid very poorly even though we are the first line of defence and essentially the face of West End theatre.
The theatres sell sweets – great big family bags of candy that make an awful noise and you can't turn it off. It's become all about how much money the theatres can make and how much money they can save.
There's been a lot of drunkenness – even adults in family shows. If you have fun novelty drinks available, people are going to sit and drink them and they are going to get noisy. With phones, it's really hard for an usher to see what's going on from the back of the theatre. Sometimes the lights are only hearing devices but for those people who are really misbehaving, well, I think they should
be excluded. Many of my usher friends think we need security, nowadays. I think each theatre should get two designated black suited ear-pieced security guards. Some already do.
I think often we're attracting people to the shows because of celebrity these days. It's the X-Factor appeal. And it's then easy to forget you're in a theatre not a pop venue. I think we should be making good musical theatre people stars of shows, bring back a bit of class.
It's also about keeping theatres clean. In some places I have worked they save money by not doing the pick-up at the end of the evening. If a theatre looks pristine and clean and tidy people won't leave their rubbish on the floor. In many places the carpets are sticky and nasty so the punters just leave all their stuff on the floor. There's no etiquette, there's no occasion anymore.
Where I've worked, I would say around twenty per cent of customers are thoughtful audience members, the rest sadly, are not.
People go to excesses these days and we just don't have the manners anymore.
Read WhatsOnStage's series of interviews and blogs on theatre etiquette here.