The Wizard of Oz (tour – Harlow)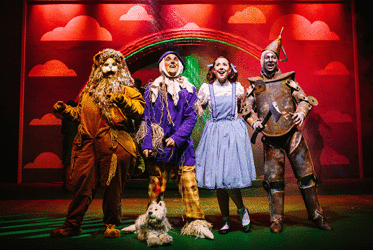 The Wizard of Oz is billed firmly as a pantomime version, so don't expect the well-known numbers from the Broadway musical or film versions. Tom Swift not only directs but plays farmhand Hayden and the Scarecrow. He also has an annoying tendency to hog the limelight with his comedy routines.
There are six other main players, plus an energetic dance ensemble for which choreographer-performer Carla Nicholson-Fuller has provided some eye-catching routines. Meghan Rayner is Dorothy Gale, the young Kansas girl caught up in a tornado whose adventures thereafter make up the main plot.
With her dog Toto (a cleverly handled puppet with whom the audience promptly fell hopelessly in love) Dorothy should be the centre of the story, and Rayner both acts and sings well. Jamie Bannerman (Rusty and the Tin Man) and more particularly Jimmy Burton-Iles (Leo and the Lion) take full advantage of their numbers.
Cantankerous neighbour Miss West translates into the most hissable of villainesses as the Wicked Witch of the West, and Katie Hastings revels in it. This devil has all the best tunes with a couple of all-but show-stopping dance numbers for her familiars. Kindly Aunt Em metamorphoses into good witch Glinda, to whom Amanda Swift brings a wry sort of off-beat magic.
The design team – Andy Newell (sets), Nicole Higgins (costumes), Tim Gear (projections) and Luke Woods (lighting) – creates some arresting images; Higgins' costumes are particularly good for both the principals and the dance ensemble. So there's plenty to engage the adult eye. I just wish that the story could be left to stand on its own merits; the pantomime elements do unfortunately jar.
The Wizard of Oz runs at the Harlow Playhouse until 13 April and transfers to the Royal Victoria Hall, Tunbridge Wells for the week 16 to 23 April.