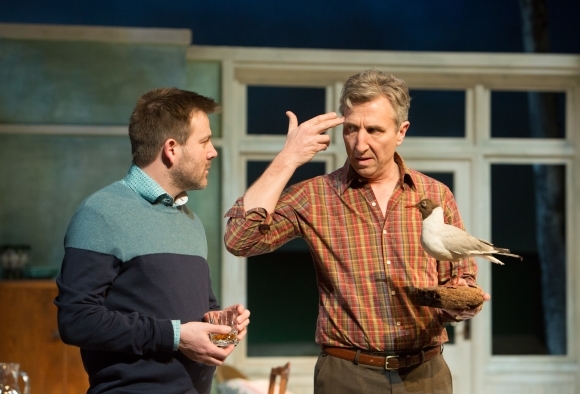 The Seagull is the final production under the Library Theatre Company banner – before the company merges with Manchester's iconic Cornerhouse to become HOME, a new arts and culture hub. This is also artistic director Chris Honer's farewell production.
Aptly, the company are ending their reign with the same play that they started out with in 1947, when they took over the 300 seater basement lecture theatre of Manchester's Central Library. And in 1952 they came to be known as Library Theatre Company. It really is the most suitable play to bow out with. It provides a commentary on life, love and art and it asks us to question theatre: is it better to stay with the old and respected way, or push boundaries and move with the new? As Nina in the play ponders, we can see that, "Life itself has come full circle".
This is the first time that a new modernised version of The Seagull, adapted by critically acclaimed writer Anya Reiss, has been given an airing outside of London. Reiss' version reignites Chekov's dark masterpiece and peppers it with humour, making it relevant for a twenty first century audience. Reiss maintains Chekov's drive for naturalistic theatre and stays true to his main themes of people, art, love and everyday life in general. The strong cast deliver Reiss' adaptation with subtlety and nuance, using the broken syntax that we experience in natural speech – searching for the word that is on the tip of our tongue, interruptions and self corrections.
The ensemble are mainly strong. Graeme Hawley plays the quiet but duplicitous writer Trigorin – a tricky one to master, but he gets it right. Meriel Schofield is highly convincing as Polina. The humour is the frosting on this production for me, with solid and well timed performances from Peter MacQueen as Sorin and David Crellin playing Shamrayev. Judith Croft's minimalist set supports the characters perfectly – the stage juts out slightly further into the auditorium, giving the effect of a more intimate performance space; this teamed withChris Honer's skillful and ardent direction, makes the production powerful and honest.
Honer has been at the helm of the Library Theatre Company for over 25 years and The Seagull has always been a "personal passion" for him. What better production to leave the Library Theatre with – to blow the cobwebs off a a classic theatrical masterpiece while updating it for a contemporary audience. This production of The Seagull salutes the passing of an era and heralds the start of something new and exciting.
The Seagull is at the Lowry until 8 March.
– Kristy Stott