The Devil Inside (Peacock Theatre and tour)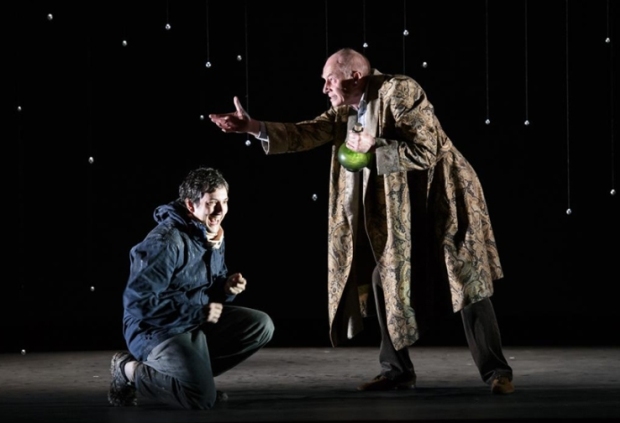 Here's that rarity, a new opera that delivers the goods. Derived from a supernatural short story by Robert Louis Stevenson,
The Devil Inside
is a loose adaptation that's taut as a coiled spring yet stuffed with rich ideas and food for thought. Best of all, in refashioning
The Bottle Imp
as a modern fable the novelist
Louise Welsh
has kept it simple. She never does the composer's job for him. That in itself is a skill which eludes most librettists who've made their names in wordier disciplines.
Hikers Richard and James seek shelter from a mountain blizzard in a splendid pile whose chatelain offers to sell them a mysterious bottle. The Imp who resides within will grant its keeper their every wish, but if they still own the bottle when they die their soul will be forfeit. And there's a second snag: it can only be sold on for an amount less than the current owner paid for it. Which means that one day… well, you do the maths.
Matthew Richardson directs this gripping horror yarn with commendable economy (although body-masked scene-changers are a bit passé) and clarity. He is served by a superb quartet of singers whose immaculate projection renders the intrusive surtitles completely unnecessary. These are a distraction that Music Theatre Wales and Scottish Opera, the co-producers of this joint commission, might usefully consider ditching for the rest of their tour.
Tenor Nicholas Sharratt and bass-baritone Ben McAteer are riveting as the hapless pair, neither of whom does well out of the Imp despite the material wealth it brings, while the excellent Steven Page bookends the opera in two pivotal roles. However it's mezzo Rachel Kelly who glues the drama as James's wife Catherine, a mortally ill young woman who yearns for motherhood. (Her husband did have a bottle of something that would make her feel better, but he's gone and sold it.) Kelly even makes something of Welsh's come-hither line "Time to make a family" – surely a passion killer on what appears to be their first date.
'A cunning creation'
"Without the bottle, life has no colour", bemoans one of the young men in a moment that captures the seductive nature of addiction. Stuart MacRae's score, on the other hand, is awash with tints and hues. It's as imaginative as it is variegated, and only some (deliberately) scratchy single strings betray the fact that there are only 14 players. The orchestra is treated expressionistically, but although MacRae amplifies the onstage emotions he never sounds like a mere illustrator – and it certainly isn't film music. Woodwind play poppingly along with the percussion or else stand spotlit for a brief motif; trumpet and trombone have a baleful role but it's never overdone. Michael Rafferty conducts it all with exemplary attention to balance and texture.
If only the vocal lines had a more keenly defined melodic shape. As in too many modern operas, the Achilles heel of The Devil Inside is its amorphous writing for the voice – which is why you can't help luxuriating in the orchestrations.
Samal Blak's restrained designs have visual redolences that can be discomfiting even when they're not wholly tangible, and the lighting by Ace McCarron is comparably sinister. As for the bottle, a cunning creation in its own right, one glance is enough to tell you it's bad news. Stay away from it – but not from this thrilling, chilling new opera.
The Devil Inside has a further performance at the Peacock Theatre on 4 February, then tours to Cardiff, Basingstoke, Manchester, Aberystwyth, Huddersfield, Toronto, Mold and Birmingham until 18 April.