Spring Awakening (Tour – Nuffield Theatre, Southampton)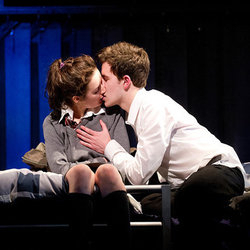 Frank Wedekind's play, Spring Awakening has certainly had a history of controversy and censorship. In recent years it has become beloved by many and turned into one of the best musicals of the last decade. Now Headlong has updated it for the 21st century in this new production by Anya Reiss.
We no longer live in an ultra-strict 19th century world that Wedekind had depicted in his play. Yet the story about a group of kids hitting puberty in a sex-obsessed adult world still resonates with us today.
Spring Awakening has translated well to the present. In the original, Wedekind addressed issues like sexuality, rape, underage pregnancy, abortion and homosexuality – issues which are still very topical today, and the play never loses sight of them.
Reiss has also brought in topics concerning technology, internet porn and cyber-bullying to make the play even more hard hitting. At times the delivery of the issues is a bit didactic, especially in the last scene. Yet the overarching theme about preparing children for the adult world remains.
The young cast play both the children and the adults. There are awkward moments where they hurriedly dress up, which feel pointless. Nevertheless, their portrayal of the adults and how they view youngsters is delightfully cynical.
Expect the usual fare from Headlong. Projections of YouTube videos and Skype calls, pulsing music and the occasional strobe lighting. Once again though they have created a captivating adaptation to chew over. Thanks to Reiss and the cast, the once contentious Spring Awakening still remains a timeless piece for today's audiences.
– David Jobson