Sing Something Simple (Tour – Cast, Doncaster)
It's a real pleasure to encounter again Joe Sproulle's infectious joy in performing and ability to engage with an audience (plus considerable acting skill) in the second tour of Sing Something Simple. Dark Horse runs acting courses for the learning disabled (Sproulle is a graduate, now a mentor on the course) and stages productions which mix mainstream professionals with its students/former students.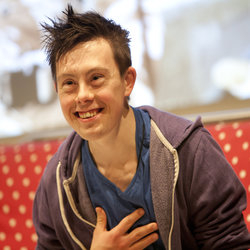 Now this sounds terribly worthy – and, of course, it is – but there is no earnestness or special pleading about the tone of the production. Instead there is a nice touch of witty self-parody lurking just below the surface throughout, starting with the title. The play constantly references the music industry, so what could be smarter than to call the second tour "The Greatest Hits Volume 2"? Understated running gags make for an evening at once simple and subtle.
The plot is straightforward, though it helps to remember that, according to the programme, the action takes place in the Parkins' house and "in various parts of Spencer Parkin's extensive imagination". Spencer (Sproulle) can't sing – "My name is Spencer Parkin and I can't sing", he constantly affirms in the manner of a recovering alcoholic – which means that he is the family misfit.
His mother, Val, is an ill-paid professional, belting out 1980s ballads; brother Kit is a prodigy at music college; neighbour and schoolfriend Bonnie, the plain girl ignored by Kit, plays a mean ukulele and violin. Most important of all to Spencer, his late grandfather was a famed session singer, a regular on Cliff Adams' Sing Something Simple. (For readers of a certain age, this notched up over 40 years on the Light Programme/Radio 2.) So how is Spencer to be noticed, to be given some status despite his admittedly lamentable vocal skills?
Vanessa Brooks' script and direction for Sing Something Simple tell the story with charm, humour and a sharp eye for detail, the interpolations from the Cliff Adams Singers and the little scene-changing routines helping to spread a warm glow through the audience. This year's casting of Lisa Howard as Val has changed her from a jazz singer in the 2013 tour to a belter out of power ballads. Switching from down-to-earth mum to 1980s diva, big-haired and glitter-befrocked, or being transformed by grief into Barbara Dickson, Howard is terrific value. Heather Dutton (Bonnie) and Richard Maxted (Kit) complete a perfectly integrated quartet.
Pip Leckenby's designs tell us a great deal in frequent costume changes and provide a photo album set in which Mic Pool's witty and ingenious projections can add to the fun and help to tell Spencer's story. And Spencer's theme song? "Spread a Little Happiness", the ultimate feel-good song for a feel-good show.
After Cast, Sing Something Simple plays the following venues:-
18-19 March – Junction, Goole (18-19 March)
20 March – Lincoln Drill Hall
23 March – Lancaster Grand Theatre
25-26 March – Arena Theatre Wolverhampton
29 March – Theatre Severn Shrewsbury
1-2 April – Guildhall Theatre Derby
3-4 April – The Lowry Salford