Shit-faced Shakespeare announces further dates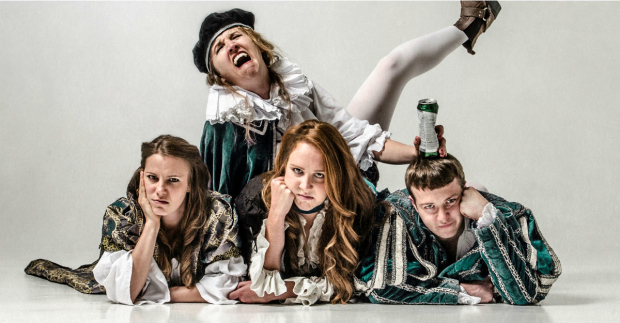 Magnificent Bastard Productions have announced further dates at the Leicester Square Theatre for their hit show Shit-Faced Shakespeare – A Midsummer Night's Dream.
Their irreverent take on Shakespeare will now run at the theatre from 30 June to 27 August 2016.
A staple of the Edinburgh fringe, Shit-faced Shakespeare has a cast performing a production of A Midsummer Night's Dream, with one actor among them completely drunk.
The cast get the actor blisteringly drunk before the performance and proceed to enact the Bard's story of fairies and shape-shifters. The run marks the 400th anniversary of Shakespeare's death.
Producer and performer Stacey Norris said; "As we lay out the bar-mats and party hats for the Bard's 400th anniversary, we're delighted to be introducing a new generation of theatre goers to Shakespeare with an ale in one hand and a wine in the other and a vodka in the other, just the way he would have wanted. Our livers would like to remind our audiences to always enjoy Shakespeare responsibly."
The production has now been performed over 350 times in the UK and USA with more than 2,275 cans and 1,050 bottles of beer consumed, 29 individual nipples displayed on stage (62% of them male) and £179.90 totaling the most spent on Domino's pizza in a single show.