Saimir Pirgu, the Duke in the Royal Opera's Rigoletto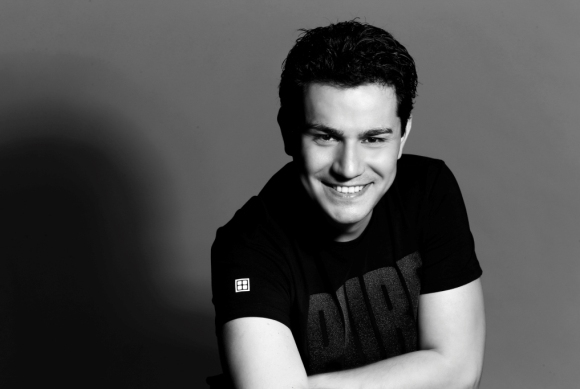 Albanian tenor Saimir Pirgu made his Royal Opera debut in 2007 as Rinuccio in Puccini's Gianni Schicchi and returned in 2010 to sing Alfredo in La traviata. In the current season he sings Duke of Mantua in the latest revival of David McVicar's production of Verdi's Rigoletto and will return to sing the Shepherd in Szymanowski's Król Roger.
Who or what are the greatest musical influences in your life?
Music has been with me all of my life and I must say that it has always had an enormous influence on everything I do. I attended a music school where I studied violin from the age of six and from then on, music provided me with a solid base from which I developed. Because of this, I was able to relate to music as I grew older, to fully understand the beauty of music, and also its uniqueness.
A particularly meaningful experience for me was watching The Three Tenors' Caracalla concert on television in 1995. I was so charmed by that concert that I understood right then that music would never leave me, and would become my profession.
I believe that I am a very lucky person because I can read and perform music; above all, my musical training has provided me with the possibility of making music my career and way of life. Music is the major influence in my existence and I cannot imagine my life without it.
When did you realize that you wanted to pursue a career as a professional singer?
Immediately after graduating with a degree in Voice from the Conservatory in Bolzano, my career began in major theatres with the assistance of important conductors. After my debut in Così fan tutte under Claudio Abbado, I sang Nemorino in L'elisir d'amore at the Vienna State Opera. This made me very aware that I had entered the opera world through the main entrance. I realised that the thing that really mattered to me was to perform at important places, under great maestros, to the very best of my ability.
You're about to appear as the Duke of Mantua in Rigoletto in David McVicar's dark staging. What new insights has this production brought to your interpretation of the role?'
This production is a very dark Rigoletto, with a very poignant beginning, where the Duke appears as the opposite of an ideal man: he is a sex-and-power-addict. The first scene is very disturbing, particularly as the Duke leads a lot of the dreadful actions on stage. McVicar's concept is very tough and it aims to show the strong opposition between self-gratification and real love.
When performing a role that contains some of Verdi's most instantly recognizable arias ('La donna è mobile' for example), how difficult is it to maintain freshness, as the part is so well known?
Performing popular arias is always quite difficult, more so if the singer has often performed them in different productions. What must be avoided is getting too used to singing a role, because that can cause a lack of real individuality in performance. Personally, as an interpreter, I think that to keep the freshness, one just needs to be faithful to the score.
With composers like Verdi, the risk of being too free in interpretation must be avoided. Verdi knew voices very well; he was a real genius! He knew exactly what he wanted from the artists who sang in his operas and anything he wanted – say some coloratura, some portamento, some high notes – he wrote into the score. In my opinion, staying as faithful as possible to the score when performing Verdi guarantees a freshness within your interpretation.
The character of the Duke has few saving graces – how do you manage to make him sympathetic?'
This is a field where we performers do not have much freedom, because we have to adhere to the director's wishes. In McVicar's production, for example, it is not very easy to make the Duke appear sympathetic or romantic. Having said this, McVicar shows two different aspects to the Duke. On the one hand, he is a man addicted to sex and power, and on the other, a charmer who perhaps, just for a moment, thinks of his life as a normal one and hopes to get away from all of his extreme behaviour. This is musically possible during the duet between Gilda and the Duke in the first act.
On the whole, it is very difficult to make the Duke a lovable character. Nevertheless, it must be said that the world has always been charmed by charismatic characters like Don Giovanni, the Duke or Mefistofele. People often feel a mixture of love and hate for them. So in spite of his cruelty, the Duke may appear rather likeable, thanks to his charming libertine soul, but most of all, thanks to the beautiful arias Verdi created for him.
If you were to name three career-defining moments what would they be and why?
It is difficult to look back on little more than ten years' career, but if I have to highlight the key events in it, I would choose four. Firstly, my work with Luciano Pavarotti, with whom I prepared all the most important roles I perform today. My debut at the Vienna State Opera as Nemorino in L'elisir d'amore, and especially the long-lasting collaboration with that theatre and its orchestra, which has provided me with significant artistic growth, has been also very important to me. Similarly, working with Maestro Nikolaus Harnoncourt, with whom I made my debut in the title role of Idomeneo and whose ideas have truly inspired me.
Another very significant appearance for me was my debut at the Salzburg Festival as the tenor soloist in the Verdi Requiem with the Vienna Philharmonic under Riccardo Muti. Maestro Muti allowed me to collaborate with him for the first time then as he had faith in me, and we have worked together on so many occasions since. To make a debut in such a festival with such an orchestra was an experience I will never forget.
Looking further ahead you are about to appear as the Shepherd in Kasper Holten's staging of King Roger (Król Roger) – a first for the Royal Opera. How do you prepare for such a role debut?
Honestly, I must admit that I am surprised by the beauty of the score of Szymanowski's opera. The music is wonderful. I have only been studying the role for a short time and I am beginning to focus on some ideas, as well as to study the libretto and the story of the historical King Roger. To understand this opera and its story I need to grasp Szymanowski's ideas, which are not that easy to comprehend. Musically, it is a role that suits my voice and I am happy to be appearing in a production completely different from those in which I usually perform.
King Roger is a rarity in this country; what can audiences expect from Szymanowski's opera?
I think that the London audience will love this piece. The story is not very easy to interpret, and this is the reason that I am eager to get to know Kasper Holten's ideas about it. Musically speaking, I truly believe that this opera deserves to be performed in this theatre and elsewhere.
What advice would you give to any young singers wanting to enter this profession?
It is very important to know languages well and also be ready to learn them quickly. It is especially imperative to know well the language you sing in most often. After completing your studies, you should not wait too long before starting professional work. You have to take advantage of every opportunity as soon as it is available.
Another important piece of advice is to ensure that you arrive at rehearsals well prepared. This will reassure your colleagues and the conductor, because then they will realize that they can trust you and that you have a professional attitude.
Being a singer is not for everyone. The voice is not always the most important thing. Motivation, passion, enthusiasm and strong will, and believing in what you are doing, are the main requirements for a singing career.
If you were stranded on a desert island, and allowed one musical score which would you take with you and why?
On a desert island? I'd die soon, so I would take the Verdi Requiem! (Just joking!) I would take the Verdi Requiem because it is so charged with emotions that it would feed my soul and help me fight loneliness on the island.
UPDATE (16 September): In addition to his scheduled appearances, Saimir Pirgu will also be singing the role of the Duke of Mantua for the Royal Opera's BP Big Screen live relay of Rigoletto on Wednesday 17 September