RSC's Mantel pieces transfer in triumph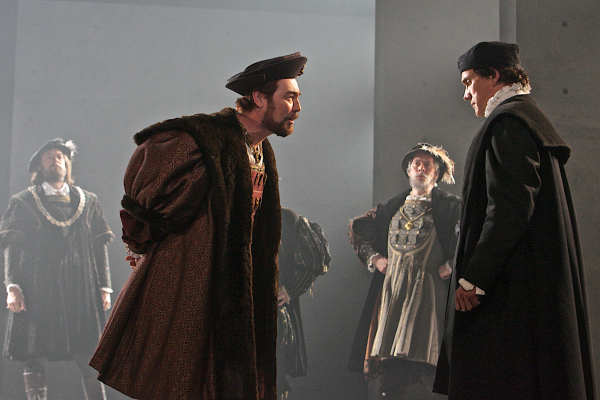 Michael Coveney
WhatsOnStage
★★★
…Incorporating the fall of Cromwell's hero, Cardinal Wolsey (a blustery Paul Jesson) and the disposal of Sir Thomas More (a desperate John Ramm); at times in Wolf Hall, you feel you are watching a flat version of Shakespeare's Henry VIII rolled into a skewed re-write of Robert Bolt's A Man For All Seasons… Bring Up The Bodies, with the unsavoury snaring of Anne Boleyn (an increasingly screechy Lydia Leonard) … you invariably long for the far superior Anne Boleyn play of Howard Brenton at the Globe which charted the impulse of the Reformation in a more illuminating fashion…Aside from Ben Miles' sinewy, knowing and charismatic performance as Cromwell… the most rigorous and compelling performances are those of Lucy Briers as a furious Katherine… Nathaniel Parker as a hale, not too hearty (and, later, haunted) King Henry, and a striking Jay Taylor as court favourite Thomas Wyatt.
Jane Shilling
Daily Telegraph
★★★★
Katherine of Aragon (played with dignified fanaticism by Lucy Briers)… Anne Boleyn (a suitably minxy Lydia Leonard); the fall of Wolsey (Paul Jesson) and Thomas Moore's fatal opposition to the match (his martyred intransigence powerfully conveyed by John Ramm) provide the dramatic incident of the first play… Nathaniel Parker as Henry VIII is strongest when expressing Henry's humanity… Ben Miles's Cromwell, with his watchful, calculating presence, tempered with flashes of humour and rare kindness, is a finely realised performance… Bring up the Bodies is a swifter, more theatrical affair: the fall and execution of Anne Boleyn and the rise of the mouse-like Jane Seymour (a seamless progression by Leah Brotherhead from downtrodden diffidence to wry, sly assurance), have an inexorable tragic momentum. Jeremy Herrin's account of the two plays… has a taut intelligence, and a subtle awareness of the parallels between Tudor times and our own.
Mark Lawson
Guardian
★★★★★
Elegantly compressing 1,246 pages of print into just over five and a half hours of stage time, the productions compellingly combine absolute dramatic clarity with tantalising historical ambiguity.
Among a uniformly thoughtful and inventive cast, Sir Thomas More (John Ramm), is vain and slippery, a man for all treasons, and yet still ultimately admirable in his willingness to die for principle. Nathaniel Parker's Henry switches instantly between charm, insecurity and terrifying rage… Paul Jesson's tremendous Cardinal Wolsey is a sybaritic hypocrite but still heart-breaking in his fall, while Lydia Leonard's Anne is a sexual and theological schemer… Crucially, Ben Miles, as Cromwell, is harder on the character than Mantel was. His Master Secretary, on stage almost throughout, is charismatic and attractive, but chilling in moments… Slightly trimmed and rewritten since Stratford, the productions now impress even more with their astonishing narrative economy…
Kate Bassett
The Times
★★★★
Jeremy Herrin's staging has winning fluidity, with Miles — in fur-trimmed cloak and riding boots — spinning on his heel from one scene into the next. Having to fillet such long novels, Mike Poulton's dramatisation suffers from a few narrative lurches; some cameos are sketchy; and Cromwell's reforming zeal for Tyndale's polemical English Bible translation never quite comes into focus. That said, this adaptation also strategically leaves gaps in the portrayals of its historic protagonists. Thus, intriguingly, you're never quite sure of the whole truth, especially concerning the damning "evidence" of adultery that Cromwell prises from Boleyn's coterie. Miles' mercurial mix of kindness and callousness is anti-simplistic and more sympathetic than many previous depictions of Cromwell. Parker's Henry is complex as well, half-believing his own trumped-up excuses for divorce, blaming his lack of a male heir on sin and witchcraft.
Henry Hitchings
Evening Standard
Wolf Hall ★★★★★
Bring Up The Bodies ★★★★
Ben Miles' Cromwell has also taken on a different hue. Instead of seeming watchful and detached, he's now more engaging. Miles is superb, conveying Cromwell's charisma and efficiency in a style that's both relaxed and magnetic… Director Jeremy Herrin marshals a large cast with impressive fluency… Aside from Miles, the star is Nathaniel Parker as Henry VIII. He is at his best in the moments where we see the vulnerability behind the bluster… Lydia Leonard's power-hungry and later power-crazed Anne Boleyn is a fascinating mix of seductiveness and savagery, while Lucy Briers has a meticulous severity as Katherine of Aragon… Crucially, Poulton reproduces Mantel's ability to have fun with the past while also valuing authenticity. Wolf Hall is the more excitingly tense of the two plays and could certainly be savoured on its own. But seeing both productions offers richer rewards.