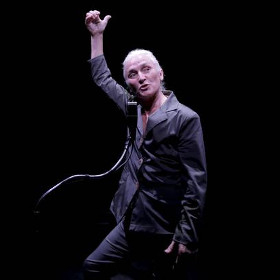 A collaborative piece, Olwen Fouéré's Riverrun owes much to Alma Kelliher's sound design and Stephen Dodd's lighting design which helps to ground this seemingly impenetrable piece. Based on James Joyce's final novel Finnegans Wake it's no surprise that you're never quite sure what's going on.
Notoriously one of the English language's most difficult works of fiction, Finnegans Wake is highly experimental, written mostly in idiosyncratic language and has no conventional plot or character construction. In creating Riverrun Fouéré revels in this obscurity, using the start of the final section of the novel as a springboard and excerpts from throughout. Ostensibly we are following the path of the river, who is embodied by Anna Livia Plurabelle (the matriarch of the book), as it dissolves into the great ocean of time – or so the programme tells me as I certainly didn't gather that from the piece itself.
There is no question that this production is a good showcase for Fouéré's impressive vocal range – her voice booms and whispers, whistles and moans, enunciates all the batches of alliteration and skilfully draws our attention to all the portmanteau words in the writing. Her use of pause, facial expression and sinuous movement also capture the rhythm of the piece and you are sunk in a torrent of words. Dodd's lighting moves beautifully between stark – simply outlining Fouéré or spotlighting her face – and soft, creating a warm, dawn-like light. Kelliher's soundscape, perfectly attuned with Fouéré's own vocal dexterity, is always present, embedding you in the piece but never overwhelming it.
All this being said, I found the inaccessibility of Riverrun problematic. If, as the programme claims, Fouéré likes this piece because the lack of narrative and structure frees us from the "fixed ideas that can tyrannise the boundaries of our imagination" then the presentation should have been more imaginative, challenging us to see monologue differently. Indeed, I didn't expect to go in and understand Joyce, but if a performance piece is not providing us with accessible content then it should be presenting that content in truly inventive ways.
The programme tells us Joyce once wrote that "the important thing is not what we write, but how we write…we must write dangerously". I don't believe that this piece is anywhere near dangerous enough to live up to the work from which it stems. I should not have left thinking just that Fouéré was a talented performer, but that her performance challenged me to see monologue differently.