Review Round Up: Ayckbourn back in National Theatre Business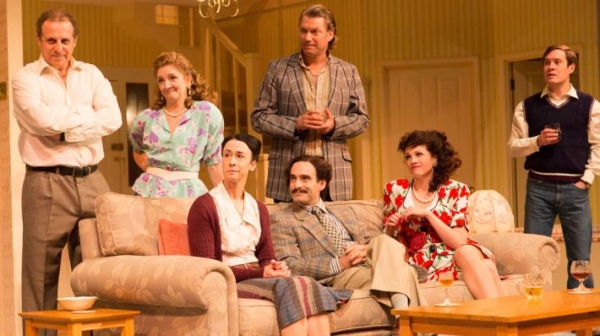 Michael Coveney
WhatsOnStage
★★★
Alan Ayckbourn's 1987 classic morality farce was written specifically for the Olivier stage, and Adam Penford's somewhat laborious revival restores the same split-level giant suburban doll's house design (this time by Tim Hatley) to show the McCracken family in flux and on the fiddle… Some of the byways in the comedy don't really land here… Generally, there's not enough colour, or killer detail, in the acting.
Debra Gillett gleams and glimmers supportively, though, as Jack's wife Poppy, who's done nothing much worse than filch paper clips at work…
In all, a decent revival, if not a shattering one, of a masterpiece that leaves you admiring the structure and carpentry of the play more than its fleshiness and character…
Charles Spencer
Daily Telegraph
★★★★
…though it is often funny and farcical, it leaves a distinctively bitter aftertaste… as the play progresses the mood becomes ever darker and more desperate, culminating in chilling violence and corruption. Nevertheless, you find yourself giggling even as the action becomes ever more malign and menacing. The NT has given the piece the works, with an astonishing revolving set design by Tim Hatley of a soulless two-storey executive home. It has to be said that the dramatic gears sometimes grind a bit as the director Adam Penford moves from comedy to corruption, and some of the acting is a touch broad… Nigel Lindsay is superb as the vigorous new broom who is genuinely appalled to discover the corruption among his relatives… Debra Gillett is delightful as his scatty wife, while Niky Wardley is in wonderful comic form as his promiscuous and utterly amoral sister in- law… This is a hard play to love, as Ayckbourn's view of humanity is so dark, but it delivers both laughs and chills with great panache.
Henry Hitchings
Evening Standard
★★★
Alan Ayckbourn's late-Eighties play — a mix of farce and satire — begins with a deliciously uncomfortable scene. Robust businessman Jack McCracken is celebrating his new role running family furniture firm Ayres and Graces… It's a promising start to what in the end proves a surprisingly dark vision of Thatcherite greed. But Adam Penford's solid revival can't conceal the play's unevenness and doesn't have quite enough pace or piquancy. Nigel Lindsay is excellent as McCracken…
As the story darkens, so does Lindsay's performance. Yet the debates about morality don't cut deep and too many characters feel underdeveloped — some are merely cartoonish. That said, Ayckbourn's gift for manipulating different plot lines is beyond dispute..
Susannah Clapp
Observer
★★
I have rarely seen a show go off the boil so quickly as Adam Penford's production of A Small Family Business… The comedy should tug the audience along, gradually revealing its underlying acerbity: an attack on Thatcherite sanctification of greed. The point of this attack has not vanished. Penford's solid production makes the underlying desperation too obvious. There is bellowing, big gesticulation, over-emphasis. Even the doors of the kitchen hatch – Ayckbourn's equivalent of the doors in a French farce – are flung open with too evident abandon.
Ian Shuttleworth
Financial Times
★★★
…in 2014, one big surprise is how the laughter has lost its edge. The culture of expediency in business now seems so far from unusual that the family's "shadow market" no longer strikes us as particularly culpable. Nothing portrayed here seems definitively beyond the pale: even a bloody murder drew comfortable laughs. Our response suggests the satire has perished, the black faded to grey. What remains is a well-designed Ayckbourn farce, where the enjoyment arises not just from events but also from the staging, particularly in the second half as a ballet unfolds of characters moving independently between rooms on Tim Hatley's two-level set which simultaneously stands for three or four different houses. Nigel Lindsay's Jack journeys from innocent brother to Godfather as all around him protect their Porsches, extensive wardrobes and Balearic getaways.