Review: Rigoletto (London Coliseum)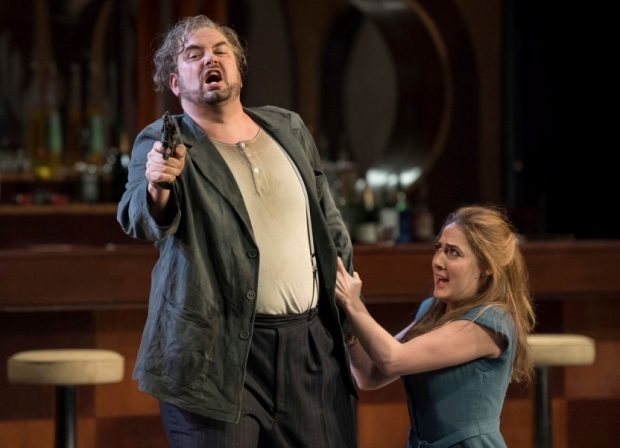 Talking 'bout my generation, Jonathan Miller's Rigoletto was the one that started it all. Before the good Doctor launched his Mafia concept on an unsuspecting world in 1982, who but a knowledgeable few had heard of 'Regie' (directors') theatre? If the score said '16th-century Mantua', that's broadly what we got. But post-Miller, and especially after those evocative designs by Patrick Robertson and Rosemary Vercoe with the walnut-panelled speakeasy and a waterfront bar where "La donna è mobile" plays on a jukebox, the time-travelling genie was out of the bottle.
Rigoletto is a hunchback with a double life. By day the wretched man courts opprobrium through his job as jester to the licentious Duke of Mantua; by night he is the over-protective father to the innocent young Gilda. When he discovers that the Duke has his eyes on his daughter he hires the assassin Sparafucile to kill him. One plot twist later it all goes to hell.
It's sensible for English National Opera to bring back some reliable favourites while it's in dire straits (and to ditch some of former artistic director John Berry's crazier follies along the way); but quality control needs to be better than this, otherwise it's a self-defeating move.
First mistake: hiring Sir Richard Armstrong to conduct. The former music director of both Scottish Opera and Welsh National Opera may have earned a gong for past achievements, but his recent ENO jobs have been an embarrassment. In 2015 he curdled Bizet's Carmen, a year later he pulverised Madam Butterfly by overwhelming his singers, and now he's come up with a graceless Rigoletto that's vulgarly played by the normally splendid ENO Orchestra and is awash with incidental misjudgements.
'Barnaby Rea steals the show'
Take the moment in Act Two when the Duke's courtiers jeer at Rigoletto for having a mistress. When, in James Fenton's admirable translation, the tragic jester cries "I want my daughter", Armstrong crashes this revelation of Gilda's true identity with a deafening cymbal. Only the surtitles reveal what he's said.
Second mistake: scouring the States for lead singers when there's so much talent languishing at home. It's a moan that would have less force were they not three such moderate discoveries. Sydney Mancasola is the pick of them: she's a sweet-toned Gilda with a beautiful trill, but her diction needs a lot of work. Nicholas Pallesen and Joshua Guerrero, respectively Rigoletto and the Duke, are decent singers but their voices are low on Verdian brilliance and flexibility. (Footnote: ENO, to its credit, is currently addressing its extravagant habit of pond-hopping and we can expect to see less of it in future.)
Third mistake: casting an outstanding Brit, Barnaby Rea, to steal the show with his powerful Sparafucile and thereby eclipse the imports. Likewise Madeleine Shaw as the scheming Maddalena and Nicholas Folwell, excellent as Count Monterone who utters the terrible curse on Rigoletto. Three great strikes for the home team.
I don't wish to curse ENO's production, just put it in special measures. At an age mid-way through life's allotted span of three-score-years-and-ten it is still salvageable, but next time it will need far more thorough rehearsal. Was the normally meticulous revival director Elaine Tyler-Hall pushed for time? To judge from the clumsily mounted ensemble scenes I fear it's likely. Add a stronger cast and a conductor who's more in sympathy with his singers, and Miller's ageing masterpiece may yet be born anew.
Rigoletto runs in repertory at the London Coliseum untli 28 February.