Review: Our Lady of Kibeho (Royal and Derngate)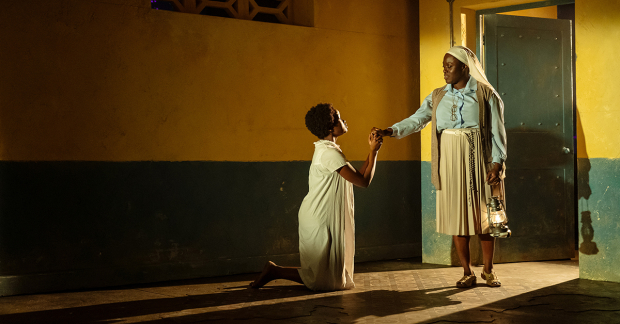 In 1981, three girls at a Catholic convent school in south-western Rwanda started seeing visions of the Virgin Mary. Over the next eight years, they experienced and exhibited a range of inexplicable phenomena, culminating in some terrifying predictions of apocalyptic violence if the apparition's warnings were not heeded. In 1994, tensions between the warring Tutsi and Hutu ethnic groups erupted, sparking full-scale genocide.
Given the Church's seal of approval of the supernatural visitations, following lengthy investigations, it was hard for many in the ravaged country not to connect the Kibeho schoolgirls' prophecies with the subsequent carnage, and the village remains a shrine to this day.
American playwright Katori Hall saw the dramatic potential of this explosive story when she visited Rwanda in 2009. Now the play gets its first UK outing at Northampton's Royal & Derngate, courtesy of artistic director James Dacre, who previously directed Hall's Martin Luther King play The Mountaintop. And while there might be a few structural and dramaturgical wrinkles that could be ironed out, Dacre's interpretation of this extraordinary true story packs a powerful punch.
There are a number of reasons contributing to the piece's impact. High on the list comes the look of the production, with a highly evocative and versatile set by Jonathan Fensom and perfectly pitched lighting from Charles Balfour creating an authentically African feel, even on a cold January East Midlands night. Orlando Gough's music combines superb a cappella singing with a filmic underscore that reinforces the mysterious elements of the narrative without overplaying them.
Dacre's staging exploits theatrical trickery (including some neat illusions by John Bulleid and carefully crafted movement by Diane Alison-Mitchell) to impressive effect, and while I have reservations about the steadfast refusal to offer any kind of rational – or even irrational – explanation of the events that play out, there's no doubt they are striking and appropriately unsettling.
The large cast, which includes a community ensemble, play their part effectively too, offering a range of flawed, confused and sometimes downright difficult characters in a way that sidesteps stereotypes and searches for understanding in the unexplainable. Gabrielle Brooks, Yasmin Mwanza and Pepter Lunkuse are formidable as the trio of visionaries, while Ery Nzaramba gives their headteacher Father Tuyishime just the right balance of credulity and pastoral concern. Michael Mears excels as the cynical Italian priest despatched from the Vatican to investigate the affair, only to become ensnared in the same hysteria that has gripped the village.
The cumulative effect of the vibrant cast, the almost tangible heat of the design and the weirdly disconcerting score makes for a fascinating, occasionally frustrating production of a play that constantly seems to dodge a firm commitment to its central theme, encapsulated in one character's simple, devastating summary: how easily, in the name of God, we become monsters.