Pests (Theatre Royal, Plymouth)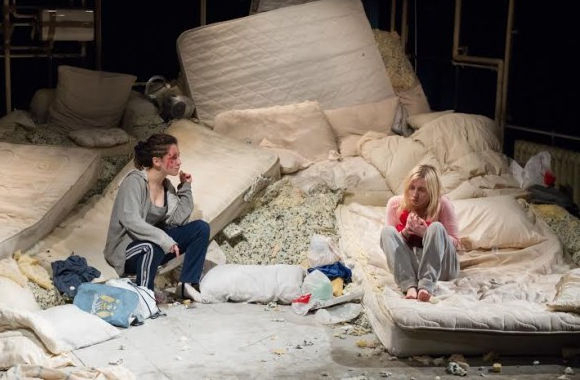 Raw and riveting.
Rolly is just out of prison, heavily pregnant, off the drugs and looking forward to a fresh start, new job and shared childcare.
Wired and jittery, addict Pink needs her sister to share her miserable life and is determined to make that happen.
Pests is award-winning Vivienne Franzmann's new play written for Clean Break (in a co-production with the Royal Exchange Theatre and the Royal Court Theatre) after a residency in a women's prison. The vulnerable young adults are victims of a malfunctioning care and education system, abuse and separation, and without the ability to change their lot.
Sinéad Matthews is charismatic as emotional blackmailer motormouth Pink, locked into a cycle of dependence: on heroin, on her sister and on a victim mentality – excellent – while a superbly vulnerable Ellie Kendrick just can't break free from her hold and an old guilt she carries.
A fresh start is impossible even when there is a juicer to kick start the process. But for the girls 'it don't get better dan dis'. Unfortunately.
Franzmann's dialogue is fast, furious and on point with street patois melded with the sister's own language, we can understand (mostly) the rich, evocative imagery conjured by warped verbs, Dickensian vocabulary and misapplied references but by the same token it isolates them in their own created world, divorced from society and convinced there's 'no place like home'.
Even when home is Joanna Scotcher's set – a derelict squat full of stained mattresses, exposed pipes, exploded foam and rubbish.
Pacy and punchy, Pests is a must-see although perhaps a little tightening and less obvious projection effects would enhance the experience.
– Karen Bussell