Oklahoma! (Tour) – triumphant production warrants its revival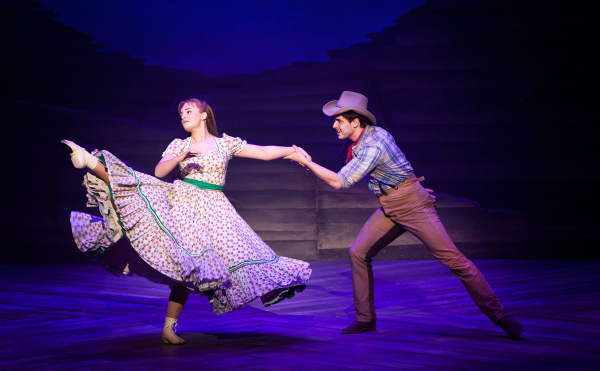 You might wonder why anyone would want to revive a 70-year-old musical that's had a number of runs over the past few years, with varying degrees of success. And then you get this triumphant production to silence any doubts.
Director Rachel Kavanaugh has assembled a creative and performing team that absolutely justifies the decision to give Rodgers and Hammerstein's 1943 groundbreaker a new outing for this national tour, produced jointly by Royal & Derngate and specialist producers Music & Lyrics.
Her designer Francis O'Connor has created an ingenious and evocative set, while choreographer Drew McOnie brings an astonishing freshness to the dance routines, with a couple of set pieces in particular which take your breath away. In the pit, there's a ten-piece band playing lush orchestrations by Steven Edis under the baton of Stephen Ridley, which are modern and wonderfully executed, adding another dimension of excitement to the whole package.
On the stage, the huge cast are uniformly excellent, and the decision not to stint on numbers or talent pays off superbly. As the young leads Laurey and Curly, rising stars Charlotte Wakefield and Ashley Day prove equally capable whether they're singing, dancing or acting their socks off. Their bantering characters are always believable and utterly likeable, making a crucial central pairing at the heart of the ensemble.
There's terrific support across the company, including a neat comedy turn from Gary Wilmot, some fine depth from a feisty Belinda Lang, and a brilliantly sinister performance from Nic Greenshields as the creepy farmhand Jud Fry. Nobody among the chorus puts a foot wrong, and the overall effect is simply glorious. Rodgers and Hammerstein themselves would have been proud.
The pace may falter a little in the first act – something that's easily fixable on the road – but the crowd's enthusiasm for the uplifting show they were given quite rightly reflected the quality of the goods.
Oklahoma! runs at the Royal & Derngate in Northampton until 28 February, before touring to Wolverhampton, Salford, Dublin, Eastbourne, Bradford, Edinburgh, Nottingham, Southampton, Crawley, Bath, Truro, Cheltenham, Dartford, Canterbury, Newcastle, Birmingham, Cardiff, Bristol, Sheffield and High Wycombe.