Notes from New York: Catching up with Sting and looking ahead to School of Rock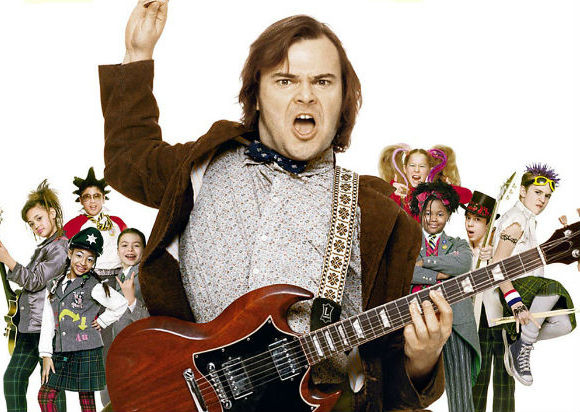 As the glitz and glitter (and confetti – thanks to the cast of Broadway's Aladdin) of New Year's Eve in New York City is swept off the streets, we're remembering some of our favourite moments from the past year – from the best Broadway photos to the most memorable debut performances and even the cutest animals.
And even though the Into the Woods anticipation, Peter Pan faceoffs, and Christian Borle's arms excitement of 2014, are behind us, there's a lot to look forward to. For instance, two very different looks at music, the new comedy Living on Love, starring opera star Renée Fleming, and an Andrew Lloyd Webber adaptation of Jack Black's School of Rock, have both been announced to hit Broadway in the coming year. Several other upcoming musicals have announced casting, including Broadway favourites Dylan Baker (God of Carnage) and Judith Ivey (The Heiress) joining Helen Mirren in The Audience, Christian Borle (Peter and the Starcatcher) and Brian d'Arcy James (Next to Normal) set to lead Something Rotten, and gorgeous people Tam Mutu and Kelli Barrett starring in Doctor Zhivago.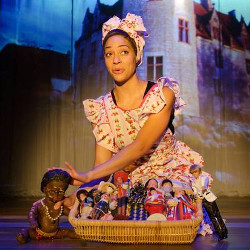 Mutu isn't the only London transplant we're looking forward to welcoming to Broadway. Several of the most highly anticipated upcoming New York theatre experiences will come to us, in some capacity, via our pals across the Atlantic. Cush Jumbo, currently starring opposite Hugh Jackman in Broadway's The River, will soon be taking her one-woman solo drama Josephine and I to The Public. The show, which premiered at the Bush Theatre in London in 2013, explores Josephine Baker's life from her birth in the St Louis slums to her rise as one of the most important stars of the 20th century.
Quite a bit further in the future, Broadway audiences are excited to see one of their favourite British characters on stage, when the recently announced new adaptation of Sir Arthur Conan Doyle's Sherlock Holmes stories hits the Great White Way in 2017. Another (possible) upcoming New York production you have to squint to see is David Mamet's Oleanna starring Lindsay Lohan. The Hollywood actress and recent star of a West End production of Mamet's Speed-the-Plow started the Oleanna rumour herself with a recent cryptic Instagram post.
Sadly, this winter on Broadway has brought with it a flurry of closing notices, but to the joy of many fans, at least two recent favourites will be preserved for posterity. The revival of the cult musical Side Show was short-lived, running only from the 17 November to 4 January, however the Lincoln Center Library recorded the show's 17 December performance to live on in their archive. The Broadway premiere of Lady Day at Emerson's Bar & Grill, starring Audra McDonald, also closed its doors after several extensions. But fans who missed McDonald's Tony-winning performance need not fear. Lanie Robertson's drama is set to be adapted to film for HBO, with the actress reprising her role. And even though the Broadway musical If/Then is ending its run, audiences everywhere will still have a chance to its star, Idina Menzel, in action when she embarks on a world tour.
Other exciting gifts that came our way this holiday season included a chat with Sting about starring in his own musical, The Last Ship, and a day hanging out with Norm Lewis backstage at Broadway's Phantom of the Opera. We even got the chance to go into the On the Twentieth Century recording studio with Kristin Chenoweth and Peter Gallagher to create this exclusive video. Even though those are all experiences we'd give the shirt off our back for, we're glad we didn't have to, because Hugh Jackman has that corner of the market totally covered.
For all the latest Broadway news and reviews visit TheaterMania.com