Nigel Harman: 'Staging these Berkoff plays is about risk-taking'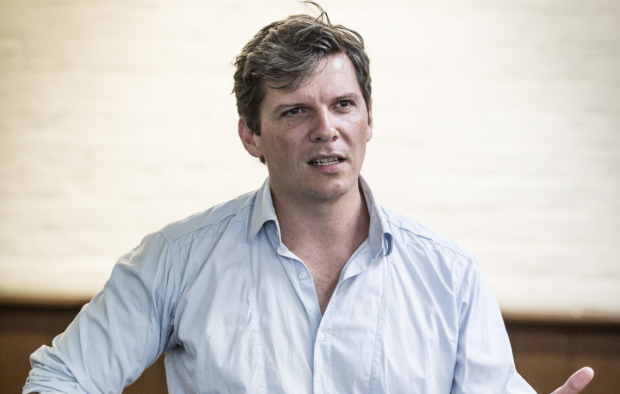 Nigel Harman is exceptionally difficult to predict. The London-born performer-director started out singing and dancing in his early years, before bagging himself an agent – aged eight – and scoring a string of TV roles. His breakout part was Dennis Rickman in EastEnders which he played for four years and won several Best Newcomer and Best Actor awards. Since his soap days, he's jumped wholeheartedly back into theatre, starring in the likes of Guys and Dolls and A Chorus of Disapproval, I Can't Sing and Shrek (for which he won a WhatsOnStage Award).
He's still ready to confound us, however, with his latest move into directing, which was kick-started after he took over directorial reins on the UK tour of Shrek. Now, he's trying something on a slightly smaller-scale: a double-bill of Steven Berkoff's Lunch and The Bow of Ulysses at Trafalgar Studios. We caught up with him ahead of the shows' opening to find out why he's picked these plays in particular.
When did you first come across Lunch and The Bow of Ulysses?
It was the producer Jimmy Jewell who told me to read these two plays. And when I did, I thought they were fantastic. Lunch is about two strangers who meet in a beach cafe, Bow is them meeting 20 years later. They are set in 1973 and 1993, but we are trying not to set them specifically in those years because a lot of what is being discussed is pertinent to right now.
Are you setting it in a cafe?
We are setting it on a pier because I often find with piers that you can't tell whether its 100 years old or not.
Did Steven Berkoff write them at the same time?
No, he wrote Lunch in '83 and the second one twenty years later. It's very clever because there's a clear difference in his writing and he links them to each other. I'd love for him to write another one, 15 years from now. The plays are a little like when you see two people sitting on a bench next to each other but not talking and then you realise, when they walk off, that they are actually together. There can be something peaceful in other people's company, but this isn't that.
Berkoff's plays aren't known for being particularly peaceful…
No, and I love him for that. He finds stuff we don't want to talk about. They are very sexual plays too that explore the submissive and dominant in the sexual arena. He breaks the fourth wall and there's nowhere to hide. In Trafalgar 2 – the tiny studio space – there are several points where we really engage with the audience.
Is it quite hard-hitting?
It's very funny, and caustic and Berkoff pulls no punches. There's an element of life passing these two people by. It's almost Greek in places. Berkoff loves Shakespeare of course, plus there are moments in it that really remind me of The Caretaker. There's silence, utter silence.
You have two actors playing both parts in both plays, how are they ageing?
We don't break the plays, we just go straight on – they are 45 minutes each – and there's a point in the middle where we literally see Emily [Bruni] and Shaun [Dooley] age. But we didn't want to do hair and make up or an interval because it ruins the flow.
This must be a very different directing gig to the Shrek tour…
Yes, which was ginormous. This is on much more of a budget. Probably the cost of Shrek's head is the entire budget of this one. This is very very different, it's intense and intimate and about risk taking.
It sounds like it's intense for the actors too…
Yes, it's basically been the three of us, especially in the first one as no one gets time off. The second is split into monologues, so one actor can learn their lines while the other rehearses. But the three of us are in it together and having a background in acting myself, I am so aware of what they are doing and risking. It's been going fantastically well.
You were planning on directing Rabbit Hole, what happened?
The short answer is that we had to park it because of casting issues and then they did it at Hampstead. It was sad when they announced they were doing it but it is part and parcel of our job, if people didn't turn down jobs I wouldn't have had half the roles I have.
Had you always wanted to be a director?
No, it was an actor who lit something in me, after they pointed out that I tended to look at plays from the whole and not just my role. I started thinking about it more and then an opportunity came round and I thought I would dip my toe in this water and see what happened. Things fell into place. I was very lucky because I absolutely love it.
Were you disappointed by the fact that I Can't Sing closed so soon?
No not really, I had a good time, I really enjoyed it. It's not everyday you turn around and see a man jumping in a massive inflatable mouth, while you're trying to lip sync to Simon Cowell through a mic in the wings. You just think: "What am I doing, this is completely nuts". I kind of loved it for that. People still sidle up to me, like it's a drug deal or something and say: "I came to I Can't Sing and really liked it."
What are your future plans?
I'm in this Sky TV series Mount Pleasant and I have lots of things in the pipeline. I've done a workshop of a new musical which we are going to try to bring over from Broadway, plus I am working with a new writer on something interesting about Charles Dickens and Charles Dogson – who was Lewis Carroll. Oh and there's the return of the Shrek the Musical tour next year.
Lunch and The Bow of Ulysses runs at Trafalgar Studios until 5 November.