Nicholas de Jongh: 'It was an accident that I turned to playwriting'
What inspired you to write The Unquiet Grave of Garcia Lorca?
I've long been horrified and intrigued by the assassination of the great playwright and poet Garcia Lorca at the start of the Spanish Civil War in 1936. He was abducted and murdered by fascist supporters of General Franco who had launched a rebellion against the elected government. But why? Some of his plays were critical of the authoritarian repressive mode of Catholicism that policed sexual desire and suppressed individual freedom. Lorca was critical of Spanish bourgeoisie too. Were these convictions of his sufficient reason for him to be murdered as civil war furies blazed? Was his known gayness in obsessively homophobic Spain the motive or did his sexuality merely trigger the gun due to be fired at him?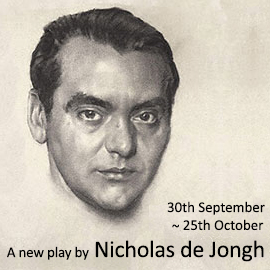 My interest in the subject was rekindled in 2012 when a Spanish newspaper reported that an old man, the art and architecture critic Juan Ramirez de Lucas, had left a box of mementoes to be opened after his death. These mementoes proved that at the age of 19 he had been Lorca's last secret lover. The box was a treasure trove in the sense that it allowed a new set of speculative questions and theories about Lorca's death and de Lucas to be raised.
I also read a new book about Franco's coup d'etat and the revelation that associates of M16 had played a leading role in bringing the General to power and ousting the government. A spider's web of fascist supporters – businessmen and men of finance – existed in Britain: I began to gather the strands that would form a play abut Lorca and his lover, attitudes to gayness in the last 70 years and the role Britain played in betraying Spain in 1936.
Are you enjoying being part of Gene David Kirk's inaugural season as artistic director?
Of course I'm delighted to be part of Gene's inaugural season. I admired his work at the Jermyn Street and his crowning glory – the starry stage premiere of Beckett's All that Fall. I am pleased a new fringe theatre is being founded in south Kensington. I just hope that the managers of Drayton Arms pub are going to pay attention to the needs of a theatre company above a busy pub.
How involved have you been in rehearsals?
I've been quite involved in rehearsals. I watched right at the beginning, came back at the middle and then quite a lot at the end. Hamish MacDougall, the director, talked to me often and I got on with him extremely well. We had similar visions of how the play should be brought to life. He was meticulous in involving me in his decisions.
What made you switch from criticism to playwriting?
It was initially an accident that I turned to playwriting. It came out of the blue while I was still a critic – and then I decided I'd like to have a go at a life-change. In the circumstances that emerged for me when the Evening Standard was sold to a new owner it was the right thing for me to cut the ties.
You enjoyed a long critical career – what's your favourite play?
I haven't got one eternal favourite – Euripides' The Trojan Women, Webster's The Duchess of Malfi, Beckett's Happy Days and Tennessee Williams' Orpheus Descending are my top four at the moment.
What's next?
I really oughtn't say in case it doesn't happen!
The Unquiet Grave of Garcia Lorca runs at the Drayton Arms Theatre until 25 October 2014