My Top 5 Showtunes: Matthew McKenna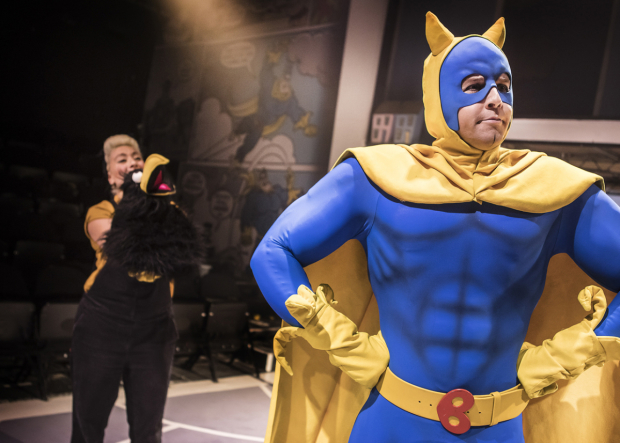 Matthew McKenna is currently starring in the title role in the world premiere of Bananaman the Musical at Southwark Playhouse.
His previous credits include The Phantom of the Opera, Sunset Boulevard and 42nd Street at the Théâtre du Châtelet, Paris.
We caught up with Matthew and asked him: "If you were stranded on a desert island which five showtunes could you not live without?"
Bananaman the Musical runs at Southwark Playhouse until 20 January.
---
1. "No One But You" from We Will Rock You
This song has a lot of meaning for me, We Will Rock You was my first job and I've done the show three times, so it's been a big part of my life. I met my wife and my best friend there whom sadly passed away a few years back and I sang this at his funeral. I love how honest and raw the song is. Bambam I still miss you every day.
2. "Nobody Needs To Know" from The Last 5 Years
I just want to sing anything Jason Robert Brown writes. The music is always strong, powerful and with a great tale to tell. The story in this song eats me up, you hear and feel the decline through it. The strings are also beautifully haunting.
3 "Singin' in the Rain" from Singin' in the Rain
Gene Kelly. Need I say more? The movie is one of my favourite classics to watch and to be able to see that pop right off the screen and onto the stage is just heartwarming nostalgia at its best. If you're ever in Paris I beg you to go and see the Théâtre du Châtelet production. It's incredible.
4. "Waving Through a Window" from Dear Evan Hansen
I play this song on repeat and belt my t*ts off (am I allowed to say that?) It's a wonderfully written fast-paced piece with an epic choral climax.
5. "Heaven on Their Minds" from Jesus Christ Superstar
I'm easily pleased. Give me a saucy guitar and a dirty beat and I'm sorted. Classic riff, great sing, awesome role.