My Top 5 Showtunes: Eden Espinosa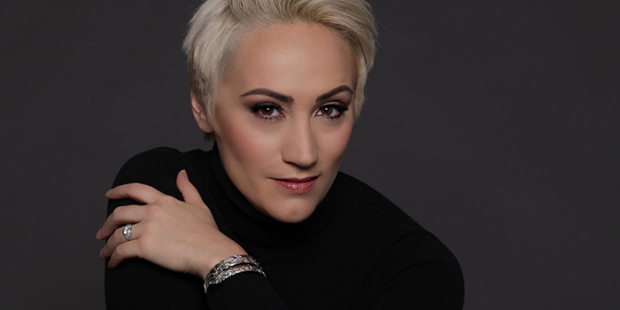 Eden Espinosa is an American performer best known for playing Elphaba in the Broadway production of Wicked.
She also played Maureen in the closing cast of Rent on Broadway and appeared on the West End in Never Neverland, a charity concert at the Duchess Theatre.
She is currently starring in Lizzie at the Greenwich Theatre and will play a solo concert at the Hippodrome Casino on 15 March.
---
1. "Move On" from Sunday in the Park with George
This song gets me every single time. This is one of my favourite shows, but especially Mandy Patinkin and Bernadette Peters. The way they communicate as actors is astounding, I can hear every moment of intent and it's amazing. This song has some of my favourite Sondheim lyrics in it as well. It has resonated with me at various different times in my life.
2. "Heaven on their Minds" from Jesus Christ Superstar
Carl Anderson takes me to heaven every time I hear this song and I listen to it often. I love the opening guitars and the entire build of the song. But his voice and the way he pleads?! Ugh, it makes me so happy. I also love how '70s the entire vibe sounds.
3. "Unexpected Song" from Song and Dance
This is one of my favourite songs to sing. But above that, these lyrics are just so romantic to me. I have felt that feeling of complete and utter surprise when you have fallen for someone and it came out of nowhere. My fave rendition is Queen Bernadette on her album "Sondheim, etc etc: Live at Carnegie Hall". She just flings her arms out in complete surrender and back phrases for the gods! It sends me to the moon every single time!
4. "No Day But Today" from Rent
One of the best experiences of my life was being a part of the closing cast of Rent on Broadway. This show was the first show I ever saw on Broadway, on my first trip to NY. It was such a responsibility to carry on Jonathan's legacy and to sing these words every night was an honour.
5. "She Used to be Mine" from Waitress
I am the biggest Sara Bareilles fan and always thought she writes so intuitively. This song is one of her best. It really speaks to me sometimes about my younger self, or different paths that I could've taken, but overall it's just a damn good song. The cast album is great but I always listen to the version from her concept album.
Bonus entry. "Petrified" from Taboo
I saw Taboo in New York three times and loved it every time. The moment I heard this song I knew I wanted to sing it. It's on my album and it just cuts right to my heart every time. I was bullied a lot growing up and had a hard time at school. It really flips the perspective on how unhappy and filled with fear someone has to be in order to target someone else and make their life hell. This entire score is filled with hidden gems and I think it's completely underrated!