Mrs Doubtfire review – a West End leading man shines in musical crowdpleaser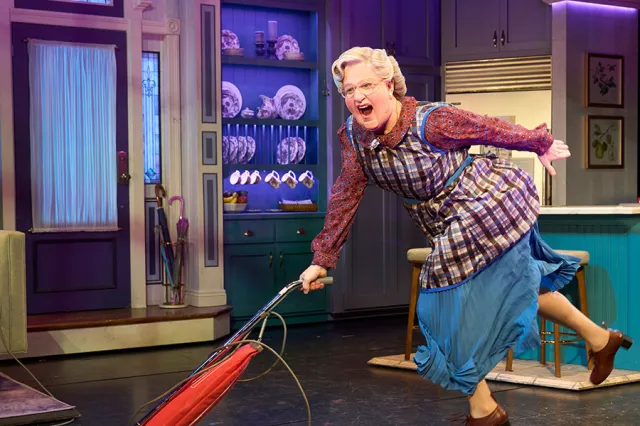 Given the universal adoration for the late Robin Williams, the producers of this musical version of his 1993 smash hit Mrs Doubtfire were always going to have to find somebody pretty special to take on the stage incarnation of the feisty Scottish housekeeper and Daniel Hillard, the sad but resourceful family man who creates her as a means to see his children following his divorce. The good news is that they absolutely have. Gabriel Vick is more than simply a safe pair of hands though, and equally he's not just a stage avatar for Williams's acclaimed screen turn, although he captures the anarchic spirit and slightly deranged bonhomie that were the essence of it.
He's astonishing in a part that demands full throttle singing and dancing, lightning quick costume changes, challenging physical comedy, vocal impersonations of everyone from Kermit the Frog to Boris Johnson, puppetry, and genuine, heartfelt emotion. It's an epic task, and he executes it with a twinkle-eyed charm and playfulness that gives way when required to moments of real anguish when Hillard thinks he's going to lose his beloved children. Vick has the comedy instincts of a real master, a rangy, powerful singing voice, and an ability to switch between character voices in the blink of an eye that takes the breath away. In the moments when he breaks the fourth wall as Mrs Doubtfire, the audience go crazy with delight. Whatever he's being paid, it isn't enough. This is probably the most demanding male central role in a musical comedy since Barnum, and he is giving a star-making performance that should, if there's any justice, catapult him to the top of every casting director's list of go-to leading men for the foreseeable future.
The show he's holding together is bouncy and generic, a thoroughly enjoyable musical that wears its heart on its sleeve, and makes up in rumbustious good humour what it lacks in originality. It has been worked on since it's not-too-successful New York premiere but will still feel comfortably familiar to fans of the film: book writers Karey Kirkpatrick and John O'Farrell don't stray too far from the screenplay, and all the big set pieces are here, from Mrs Doubtfire's ample embonpoint being accidentally set on fire on the cooker (with pan lids used to put out the conflagration), to the high farce of the climactic restaurant scene where Daniel repeatedly switches personas and dinner tables in an effort to be in two places at once. In the musical, this sequence is punctuated, hilariously, by a flamenco floor show where a histrionic señorita (Lisa Mathieson, hysterical) belts out an aria of romantic betrayal, the lyrics of which unfortunately seem to comment on the ensuing Hillard/Doubtfiredisaster-in-hand ("Decepción! Decepción!…Bastardo!…Mentiroso!…Why did he lie? Why!") It's one of numerous sections in the show where it's virtually impossible to stop laughing.
Brothers Karey and Wayne Kirkpatrick wrote the score and display the same gift for pastiching popular musical forms that they demonstrated in the songs for their earlier Broadway hit Something Rotten!. The music here is attractive but mostly only memorable when it sounds like something else (the disco-dynamic transformation number "Make Me A Woman" could have come straight out of Kinky Boots, and the Hillman kids' anthem of discontent, "What The Hell" is reminiscent of Beetlejuice).
This lack of specificity works to their advantage though in the banging act one closer "I'm Rockin' Now" which is a suitably similar substitute for the movie's "Dude (Looks Like A Lady)" by Aerosmith which features the comically iconic sequence where a dancing Doubtfire gets down and dirty while doing the vacuuming. Choreographer Lorin Latarro even gives Vick identical moves (her work elsewhere is less derivative but equally exhilarating).
There's a moment in the second half where the musical authentically improves on the film; the superior ballad "Let Go" for Miranda, Daniel's ex-wife as she chronicles the breakdown of their relationship, is not just the best song in the show, but it fleshes out the character in a way that Sally Field was never afforded in the movie. Laura Tebbutt delivers it stunningly, with powerhouse vocals and honest emoting that never feels self-indulgent.
The supporting cast is full of lovable, caffeinated performances, notably Cameron Blakely as Daniel's make-up designer brother whose unusual tic of involuntarily shouting when not telling the truth is the source of huge merriment, and Marcus Collins as his sassy, Donna Summer-obsessed husband. Ian Talbot as a perpetually bewildered children's TV presenter long past his sell-by date, Micha Richardson as his comically dead-pan producer, and Kelly Agbowu, delightful as a suspicious but not unkind social worker, also contribute valuably. The role of Miranda's musclebound new British beau, whom Mrs D memorably refers to as "too tall and too British, too well chiselled and too Brad Pitt-ish", is pretty thankless but Samuel Edwards makes him surprisingly likeable. At the press performance I saw, Carla Dixon-Hernandez was sidelined from the role of Lydia, the older Hillman daughter, by an injury, but understudy Amy Everett was wonderful, suggesting with beguiling warmth the pain of a teenager watching her parents hurt each other.
Broadway's Jerry Zaks directs with polish and verve, and David Korins's sets are a very pretty eyeful with their gleaming visualisation of a semi-romanticised San Francisco, lit with colourful invention by Philip S Rosenberg. Catherine Zuber's costumes look like reality turned up a few decibels, which feels about right for this good-hearted fantasia, although there's not much she or the make-up team can do about the outlandish look of Mrs Doubtfire herself: a flaw in both the film and the show is that you occasionally find yourself wondering about the sanity, or at the very least the eyesight, of all the characters involved if they really accept they're looking at a convincing woman.
I guess few will care, as this is a show that ticks so many of the boxes musical goers look for on their big night out. It's loud, it's bright, it looks expensive, it has big energy, belly laughs, tunes and tears, plus characters to root for, adorable kids, a truly unforgettable central performance, and a really beautiful message about the importance of finding your family, whether or not it's a conventional one. In these uncertain times, this theatrical equivalent to comfort food, that sends you out with a big grin on your face and a warmth in your heart, is a pretty appealing place to be. Don't worry poppets! Mrs Doubtfire looks like she could be around for quite a while.