Michael Coveney: RSC asks, which is Shakespeare's most popular play? And which is the best?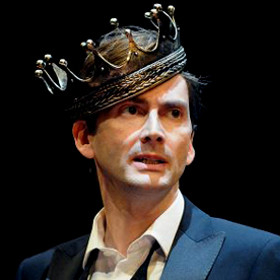 Highlighting a number of theatre websites the other day, WhatsOnStage drew attention to the wealth of information available on those of the National and the RSC. Take the latter: if you look at the upcoming production of Henry IV Part One, opening the season at Stratford-upon-Avon in two weeks' time, you can get a nifty synopsis, see webcams and videos of rehearsals, follow actors' blogs, watch a trailer, even look at a picture gallery about making the trailer…
By the time you've finished, you'll know more about the show than when you've actually seen it. The Henry IV plays, which are my favourite plays of the Bard, were described by Kenneth Tynan as "the twin summits of Shakespeare's achievement" and artistic director Greg Doran seems to comply in suggesting they are certainly two of his greatest plays.
But an RSC poll taken in January places them nowhere. Admittedly only 2,222 people voted, but 431 of them voted for Hamlet, with King Lear second on 307 votes, Macbeth third on 165, The Tempest fourth on 161 and – this is astonishing – Titus Andronicus fifth with 138. That's ahead of Othello (114), Much Ado (105) and substantial votes for The Dream, Richard II and Twelfth Night.
This can only be explained, surely, by the fact that the poll was taken among RSC regulars who thrilled to the recent Titus revival directed by Michael Fentiman, with Stephen Boxer in the lead and Katy Stephens as Tamora, Queen of the Goths. Titus is always popular in the theatre, despite the novelist and Shakespeare biographer Anthony Burgess once saying that the play was surplus to twentieth century requirements and surely doomed for the scrapheap. Some of our most inventive directors, from Peter Brook to Trevor Nunn and Deborah Warner, have obviously thought otherwise. And it's a great central role. Colin Blakely never played Lear, alas, but his Titus at the RSC was no mean substitute.
When I don't contemplate the histories, I often think that The Winter's Tale is the most beautiful play, that Antony and Cleopatra has the best verse, that Troilus and Cressida is the most modern (closely followed by Measure for Measure) and that All's Well That Ends Well the most surprising. But surely someone might have voted for Romeo and Juliet or – and this is a play I like more each time I see it – The Merchant of Venice?
The veteran critic J C Trewin once wrote a book called Five and Eighty Hamlets; I've seen over fifty and still counting, and I never tire of the play. I feel the same way about The Dream and Twelfth Night, plays I could happily sit through once a month. But with Henry IV, both parts, you get a great public epic in which, Tynan said, a whole nation is under scrutiny and on trial. That's the fascination, the place in our lives for civic duty, the role of monarchy, the meaning of patriotism, the ethics of war and the shuddering effect of all this on all lives in town and countryside. And, of course, there's Falstaff.
It's amazing how the RSC has defined itself in each new generation with these plays, and now Doran aims to set out his stall, too. What we're not going to get is any sense of the historical cycle, as Nigel Lindsay as Bolingbroke in the David Tennant Richard II is now succeeded by Jasper Britton as Henry IV in these plays; though Sean Chapman, Jim Hooper and Joshua Richards are in the company again. I wonder, in due course, if Alex Hassell as Prince Hal will be announced as Henry V? One of the best things about the Peter Hall/John Barton Wars of the Roses was that Ian Holm grew into the royal job right the way through.
Over the next six years, Doran aims to produce all thirty-six plays in the Folio, so perhaps the RSC should take another poll when that's done. They might ask which play is the least popular, as well. I'd guess at King John, Two Gentlemen of Verona and King Henry VIII doing quite well in that category.
But the great thing about theatre is that often those "rare" plays prove compelling on stage. There was once a tremendous, Brechtian Henry VIII at the RSC, Richard Griffiths as the King, Howard Davies directing. (Now, of course, we have Wolf Hall and Bring up the Bodies.)The outstanding reputation rescued — perhaps even established – is that of the three parts of Henry VI, which Barton fiddled into two "new" plays – Henry VI and Edward IV – for the Wars of the Roses. Terry Hands was the first RSC director to stage them in their entirety, and that revelation was reiterated when Michael Boyd did his wonderful "oil drum" productions ten years ago.
In this brief survey I see I've not mentioned Julius Caesar or Coriolanus, the greatest political plays ever written, surely, and what about poor old Pericles, Prince of Tyre? That play, dismissed by Ben Jonson as "a mouldy tale," was omitted from the Folio and rarely acted in modern times because of the incest riddle at Antioch and the brothel scene at Mytilene. But there have been European productions that sailed on its still, quiet beauty, its surges of great verse and, above all, its qualities as a spectacular adventure story; high time the RSC did something about this in its next popularity poll, and bigging up the brothel scene won't damage its chances.