Maxine Peake nominated twice for Manchester Theatre Awards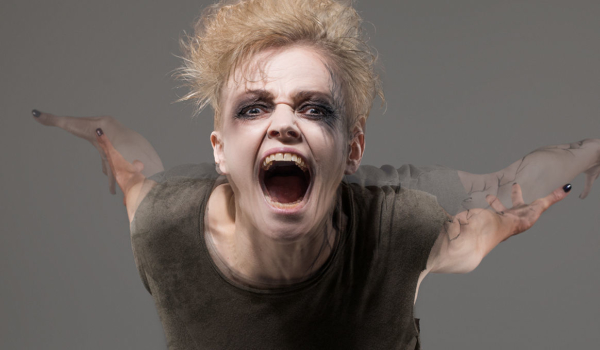 Maxine Peake has been nominated for both an acting and a writing award in the Manchester Theatre Awards.
Peake is up for best actress, for the second year in a row, for her role in The Skriker which opened at the Royal Exchange theatre in July 2015.
This year Peake has also been nominated for her play about cycling, Beryl, which will run at the Rose Theatre Kingston in March.
Bolton Octagon leads the nominations in the main acting and production categories. Barbara Drennan is nominated for best actress for A View From The Bridge at Bolton, alongside Colin Connor for best actor for the same production, Rob Edwards for An Enemy of the People, also at Bolton. The theatre's productions of An Enemy of the People and A View From The Bridge are also nominated for best production.
The Lowry has the most nominations, with 16 across all categories. Michael Ball is also nominated for best actor in a visiting production and Lucy O'Byrne is shortlisted for her role as Maria in The Sound of Music at the Lowry.
There are 20 categories in the awards, which are chosen by a panel of 10 of the area's theatre critics.
The winners of the awards will be announced on 4 March.
The nominations in full:
Actor In A Leading Role
Colin Connor in A View From The Bridge at Octagon Theatre, Bolton
Rob Edwards in An Enemy Of The People at Octagon Theatre, Bolton
Jonjo O'Neill in The Crucible at the Royal Exchange
Sam Swann in Pomona at the Royal Exchange
Actress In A Leading Role
Scarlett Brookes in Educating Rita at Oldham Coliseum
Barbara Drennan in A View From The Bridge and The Family Way at Octagon Theatre, Bolton
Kathryn Hunter in Kafka's Monkey at HOME
Maxine Peake in The Skriker at the Royal Exchange
Actor In A Supporting Role
David Birrell in An Enemy Of The People at Octagon Theatre, Bolton
Ben Porter in Boeing Boeing at Oldham Coliseum
David Nabil Stuart in A View From The Bridge at Octagon Theatre, Bolton
Tim Steed in The Crucible at the Royal Exchange
Actress In A Supporting Role
Natasha Davidson in A View From The Bridge at Octagon Theatre, Bolton
Lauren Drummond in The Ancient Secret of Youth and the Five Tibetans at Octagon Theatre, Bolton
Anna Wheatley in The Family Way at Octagon Theatre, Bolton
Ria Zmitrowicz in The Crucible at the Royal Exchange
Actor in a Visiting Production
Joe Armstrong in Constellations at The Lowry
Michael Ball in Mack and Mabel at the Opera House
Finetime Fontayne in King Lear at The Lowry
Dominic Marsh in Dead Dog in a Suitcase (and other Love Songs) at HOME
Actress in a Visiting Production
Louise Brealey in Constellations at The Lowry
Debbie Kurup in Anything Goes at the Opera House
Lucy O'Byrne in The Sound of Music at The Lowry
Sophie Thompson in Guys And Dolls at the Palace Theatre
Performance in a Studio Production
Alex Austin in Yen at the Royal Exchange Studio
Carla Langley in Cuddles at the Royal Exchange Studio
Sian Reese-Williams in Lungs at The Roundabout at The Lowry
Abdul Salis in Lungs at The Roundabout at The Lowry
Performance in a Fringe Production
Ben Bland in Grass at Mumps shop, Oldham
Heather Carroll in Raw at Joshua Brooks
Colin Connor in Mr. Smith at the Kings Arms, Salford
Jeni Howarth-Williams in The Rise and Fall of Little Voice at the Kings Arms, Salford
Ensemble
Dreamers at Oldham Coliseum
Noises Off at Octagon Theatre, Bolton
Lord of the Flies at The Lowry
Street Scene at the Royal Northern College Of Music
Production
Educating Rita, directed by Iqbal Khan at Oldham Coliseum
An Enemy of the People, directed by David Thacker at Octagon Theatre, Bolton
Rites, directed by Cora Bissett and Yusra Warsama at Contact
A View From The Bridge, directed by David Thacker at Octagon Theatre, Bolton
Visiting Production
Beryl from West Yorkshire Playhouse at The Lowry
Constellations from the Royal Court Theatre at The Lowry
John from DV8 Physical Theatre at The Lowry
Twelve Angry Men from Bill Kenwright at The Lowry
Studio Production
Cuddles at the Royal Exchange Studio
Light at the Lowry Studio
Lungs at The Roundabout at The Lowry
So Here We Are at the Royal Exchange Studio
Fringe Production
Mr. Smith at the Kings Arms, Salford
Parents Without Children at the Three Minute Theatre
The Rise and Fall of Little Voice at the Kings Arms, Salford
We Are The Multitude at 24:7 Theatre Festival
Musical
Anything Goes at the Opera House
The Bodyguard – The Musical at the Palace Theatre
Guys And Dolls at the Palace Theatre
Mack & Mabel at the Opera House
Dance
1984 from Northern Ballet at the Palace Theatre
Flex'N Manchester for Manchester International Festival at Old Granada Studios
Lest We Forget from English National Ballet at the Palace Theatre
Tree Of Codes for Manchester International Festival at the Opera House
Opera
Cosi Fan Tutte at Clonter Opera Theatre
Giovanna d'Arco for Buxton Festival at Buxton Opera House
The Marriage of Figaro from Opera North at The Lowry
A Midsummer Night's Dream at Royal Northern College Of Music
Design
Inkheart at HOME
Moominland Midwinter at Waterside Arts Centre, Sale
The Oresteia at HOME
Tree Of Codes at the Opera House
New Play
Beryl by Maxine Peake at The Lowry
Nirbhaya by Yael Farber at Oldham Coliseum and Contact
The Rolling Stone by Chris Urch at the Royal Exchange
So Here We Are by Luke Norris at the Royal Exchange Studio
Special Entertainment
Inala – A Zulu Ballet, at the Palace Theatre
Ultima Vez, at The Lowry
Bridging the Gap, The Gap Theatre Project at Halle St. Peters
Moominland Midwinter, at Waterside Arts Centre, Sale
Youth Panel Award
On The Town, from RNCM Youth Perform at the Royal Northern College of Music
The Shrine of Everyday Things, from Contact Young Company at Contact
TaY Talks, from Truth about Youth at the Royal Exchange
The Wardrobe, from Octagon Youth Theatre at Octagon Theatre, Bolton