Matt Trueman: Olivier Awards: A good night for women but a bad night for diversity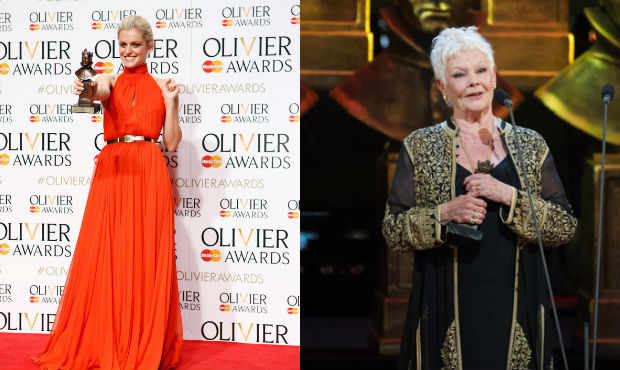 GOOD NIGHT: WOMEN
Was it just me or did women write every headline worth writing last night? If it wasn't Judi Dench accepting her record-breaking eighth Olivier Award, it was Imelda Staunton bagging the deadest of dead certs in history for her Mama Rose or Denise Gough being roared to the podium to collect Best Actress. You want more? Well, Jessica Swale became only the fifth woman (in 40 years, FFS) to win Best Comedy with the big old feminist fuck yeah that is Nell Gwyn, and Cyndi Lauper is now the third female composer (again: IN 40 YEARS) to bag Best New Musical. Oo-oo, girls just want to be taken seriously…
BAD NIGHT: DIVERSITY
In a Telegraph interview trailing the do, host Michael Ball cast an eye to the #OscarsSoWhite debate. "There was a big hoo-ha at the Oscars about diversity," said the white, middle-aged man from his position of privilege. "Well, there's no such problem in theatre. I think we're doing all right."
Hmmm. Had he read the list of nominees? By my count, only six of the sixty individual nominees were BAME. On the plus side, Matt Henry and David Bedella won their categories, with Lin Manuel Miranda and Ma Rainey's Black Bottom balancing things out elsewhere.
Next year, maybe we'll see a woman of colour grab Larry's little face, not just namechecked in someone else's speech. Gough, again, got it right with a shout out to three overlooked performers: Noma Dumezweni, Sharon D. Clarke and Marianne Jean-Baptiste, all of whom – it's true – could easily have been in the mix for Best Actress.
GOOD NIGHT: YOUNG PEOPLE
Young folk rarely fare well at the Oliviers. Only one performer under thirty, Luke Treadaway, has ever won either of the Best Actor (in a play) awards. That didn't change last night, but even so, the Millennials smashed it. Robert Icke became the youngest director ever to win an Olivier (after Deborah Warner). Drew McOnie, scarcely 30, won best choreographer for In The Heights. And, even in her mid-thirties, Gough's among the youngest best actress winners this century.
Mind you, the oldies didn't do badly either with Dench, 81 and Kenneth Cranham, 71. Alessandra Ferri became the Royal Ballet's oldest ever principal last year and, in its 30th anniversary year, Phantom of the Opera took the public vote.
BAD NIGHT: LEGENDS
Ok, so we got Dench, Staunton and Ferri, with added Dame Shirley Bassey right at the end, but whatever happened to the Oliviers' Special Awards? It's not unprecedented, but it's a long time since SOLT neglected to dish the biggiesout. In some ways, they're the most important of the night – a rare chance to really honour the people that have changed the face of British theatre: the Maggie Smiths and Alan Acykbourns of this world, the Monica Masons and Andrew Lloyd Webbers. This year: nothing. Did SOLT run out of cash? Did somebody just forget?
GOOD NIGHT: PLAYFUL PRODUCTIONS
In any awards ceremony, it's the artists that take to the stage and grab the awards. Producers, the people who make it all happen (and, in the case of the Oliviers, make up most of SOLT's members), have to be content with the odd round of thanks. Playful Productions – the trio of Matthew Byam Shaw, Nia Janis and Nick Salmon – got more than most last night. They took Hangmen into the West End, but, as co-producers and general managers for Kinky Boots, they were celebrating a haul of five. While we're at it, good night for Rufus Norris too: four Oliviers in year one – the same as Nick Hytner, incidentally – is no bad way to respond to your critics.
BAD NIGHT: SONIA FRIEDMAN
Ouch – super producer Sonia Friedman had a remarkable, potentially unprecedented 20 nominees in the running, but came away with only one win: Robert Icke's Best Director gong for Oresteia. The real shame is that Bend It Like Beckham – that big best foot-forward for multicultural Britain – left empty-handed. Its stars were up against the Gypsy dream team. Its musical team, head-to-head with Lin Manuel Miranda. As for Best New Musical, well, maybe its feelgood factor fades away next to the accomplishment of Cyndy Lauper's Kinky Boots score. Still, hangovers are the last thing Friedman's team need with the small matter of Harry Potter coming up.
GOOD NIGHT: POPULAR WINNERS
The Oliviers are often taken as the benchmark of British theatre's best. Actually, with a focus on the West End, they celebrate the best of our popular theatre. Fitting, then, that this was a year of popular wins: that trio again, Staunton, Dench and Gough, but also Showstopper: the Improvised Musical, In the Heights and Kinky Boots – all big crowd-pleasing favourites that the audience was willing on. The same, in the room at least, could be said of the award to ENO's chorus and orchestra, which won an almighty cheer that should bolster their fight against the contract being imposed from above.
THE ONE THAT GOT AWAY: UNCLE VANYA
As the Almeida's artistic director Rupert Goold tweeted after Best Director was dished out: "TBH Robert Icke could have won it twice over this year." It's true. Uncle Vanya opened four days before the end of eligibility and, by the time SOLT members' votes were cast, probably hadn't been seen by enough of them. That's a massive omission – not just for the production, but for a shattering cast. Any of Paul Rhys, Vanessa Kirby, Tobias Menzies and Jessica Brown Findlay would have been worth a nomination. As would Oppenheimer, Jane Eyre, Escaped Alone, Husbands and Sons, Carmen Disruption…but don't get me started on that one again.