Macbeth is quite often the introduction to Shakespeare for many students, and there are a great number of interpretations which soon fade from the memory. Daniel Buckroyd's staging for Colchester's Mercury Theatre, however, will remain etched in the mind.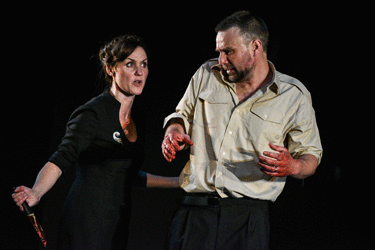 This modern-dress production skilfully blends modern touches – Macbeth's red-bereted soldiers and the Cherie Blair-styled Lady Macbeth – with haunting weird sisters who hark back to medieval dress and speech. They begin the play in an eerie fashion singing a mournful evensong as they restrain Lady Macbeth from the son she so wanted.
Overall the production is a well-orchestrated piece where all elements of theatre come together to sear into the souls of the audience. Juliet Shillingford has created a bold three-tiered set that juts out into the auditorium: the closest part of the stage where soliloquies can be said, the main stage where most of the action and a series of ramps where the soldiers can run.
Translucent castle walls and the excellent sound design of John Chambers combine to create great atmosphere as Macbeth opts out of Duncan's victory party. Sound is also used to a haunting effect when nursery tunes continue to play after the murder of Macduff's son and wife.
This is an excellent ensemble performance with much of the dialogue being delivered with clarity and expression. There are a couple of notable performances with real chemistry between Esther Hall's Lady Macbeth and Stuart Laing's Macbeth. Nicholas Bailey as Macduff and David Carr as Ross give commanding and clearly focused performances.
In essence this is a production which takes the basic text and subtly augments it. Cynical modern audiences will find themselves surprised and stirred by subtle touches. These include the way in which Banquo's ghost mysteriously appears and then disappears. That this production has the ability to shock, touch hearts and make us think shows its overall quality.
Macbeth runs at the Mercury Theatre, Colchester until 18 October.