Long Live the Little Knife (Norwich)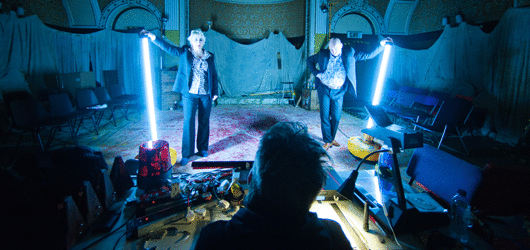 Part of the Made in Scotland 2013 initiative, this concentrated version of the script packs a powerful theatrical punch. As the opening drama production of the Norfolk & Norwich Festival 2-14 it sets quite a benchmark. Leddy is his own director – something which doesn't always work – but a great deal of the credit must also go to designers Ali Maclaurin and Nich Smith.
Liz and Jim are small-time wheeler-dealers. You will find their counterparts in any large market complex, flogging rip-off and other "designer" must-have goods. Then they discover that they're treading on toes attached to far more unscrupulous persons; they need to find a lot of cash – and quickly.
Inept as always they decide to steal a painting and have 50 copies made. A Russian oligarch is lined up to receive one of the 51, but this time Liz and Jim have definitely bitten off more than anyone can chew. What happens next is shocking and yet inevitable.
Wendy Seagar is Liz, a live wire sparking many accents. The equally effective Neil McCormack plays Jim, her other half and alter ego. Stage manager Linsey Johnstone also has a large part to play. Ritualised violence has its own impact, here enhanced by the choice of music. It's not an enjoyable play but it is a remarkable piece of theatre.