Let the Right One In (Apollo Theatre)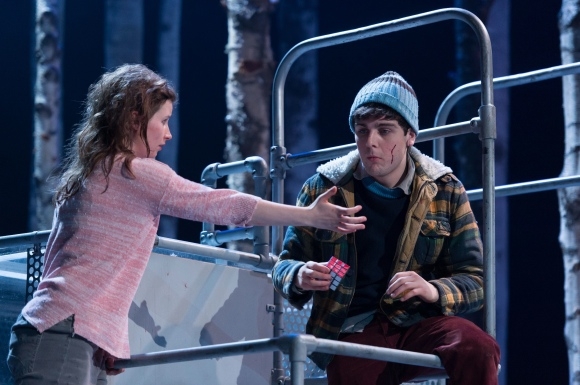 Following that little local difficulty with the ceiling, the Apollo had a tough job replacing The Curious Incident of the Dog in the Night-time (which the National Theatre is taking next door to the Gielgud) with something equally strange, unusual and compelling.
Well, they've found the perfect sequel in this amazing John Tiffany production of another tale of damaged adolescence and defiant spirituality. You check the Apollo ceiling for holes and see instead a deep blue sky with trees and stars stretched across the upper circle: onstage, the forest of tall silver birches proclaims Chekhov, until you spot the orange sodium glow of a street lamp, the aluminium climbing frame, the frightened locals who have been scurrying about since we entered the stalls.
Snow covers the ground. A serial killer is on the loose, father figure to a vampire girl, new neighbour of teenaged, nerdy Oskar, who stabs trees and fiddles with his Rubik's cube and can't join in the PE classes properly. Their burgeoning friendship offers a chance of love and redemption in a weird, distorted, brutalised world.
The National Theatre of Scotland show, scripted by Jack Thorne from the cult novel and screenplay (for Tomas Alfredson's 2008 movie) by John Ajvide Lindqvist, started out at Dundee Rep last June and arrives in the West End after a sell-out season at the Royal Court in a co-presentation by Marla Rubin and Bill Kenwright.
It's as unexpected, and as unusual, as anything on Shaftesbury Avenue in recent years, with extraordinary design by Christine Jones, eerily blue and brilliant lighting by Chahine Yavroyan and a soundscape by Gareth Fry that sets new standards in atmospheric scariness. Tiffany's production is choreographed by Steven Hoggett so that the sequences of bullying, regimentation, parental intimacy, attack, are all conducted at the same pace and to the same intensity.
And at the core are the two original performances of Rebecca Benson as the blood-curdling Eli ("Would you still like me if I turned out not to be a girl?") and 18 year-old professional debutant Martin Quinn as Oskar, so gawky and gangly that he seems to collide with his own knees and elbows. He even manages to make "You smell like an infected bandage" an utterance worthy of Romeo. They are both several years older than Lindqvist's characters, so that one crucial element of corrupted pre-pubescent innocence is lost.
But that's transformed into a virtue, as the collision of adult and young adult sensitivities is more satisfying, and the acting less of an embarrassment. Clive Mendus is the sinister Hakan, prowling the woods for his charge's gory sustenance, Susan Vidler powerfully defensive as Oskar's Mum, Gavin Kean the investigating policeman and Gary Mackay the outwitted sweetshop owner.
The climactic blood bath includes the famous swimming pool scene, carried out in a scenic transformation and physical effort that are literally breath-taking. A quick dash to Dirty Rotten Scoundrels may be in order to cheer yourself up, but Let the Right One In takes you to the edge of human experience, and perversity, with eye-opening candour, beauty and ingenuity.