Kid Critic: Horrible Histories (Garrick Theatre)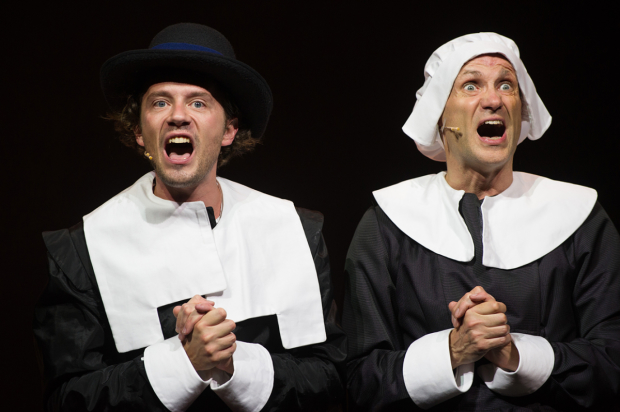 This show takes you on a hilarious journey through Britain's barmy history, from the Stone Age to World War 2. At the start they spent a bit of time joking about Happy Histories but as soon as the Horrible Histories started, so did the fun.
We joined a Stone Age man for a gruesome meal of a bear's stomach (my sister was horrified) and joined in with a song to help us remember which towns were named by Vikings, Romans and Saxons.
We met childish King John and discovered why the Magna Carta has nothing to do with ice-cream! You might get picked to go on stage and visit a Tudor clothes shop, but be careful because a girl got put in the stocks and the audience threw sponges at her!
I enjoyed the lively song about the Puritans who got rid of Christmas and couldn't stop laughing when King Charles II performed a funny rap song and dance. Then the stage filled with smoke as Thomas Farriner took part in the Great British Bake Off and didn't notice that he had started the Great Fire of London!
If you want to know how poo caused a massive Cholera outbreak in Soho, and have fun while you learn about British history then I recommend coming to see this show. Superb! I enjoy history and I give this show a 5 star rating.
Horrible Histories – Barmy Britain: Part Three runs at the Garrick Theatre until 5 September. For more information and to book tickets, click here.