Kathy and Stella Solve a Murder! announces full cast and creative team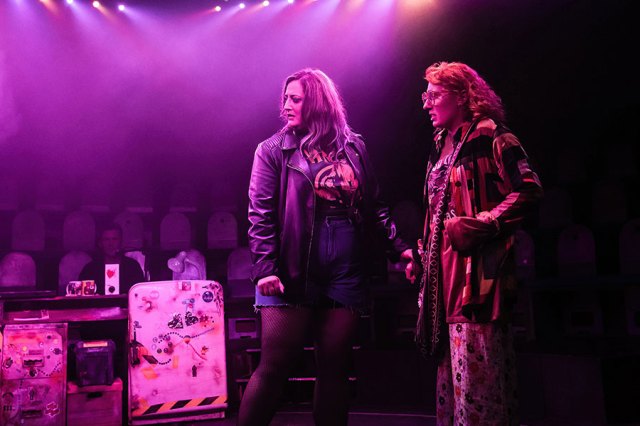 The full cast and creative team for the new expanded version of Kathy and Stella Solve a Murder!, which returns this summer.
Matthew Floyd Jones and Job Brittain's piece will play at Underbelly at the Edinburgh Fringe from 2 to 27 August before touring to Bristol Old Vic from 13 to 30 September and HOME Manchester from 5 to 21 October.
As already announced, the show will be led by Bronté Barbé (Newsies) as Kathy and Rebekah Hinds (Oklahoma!) as Stella, a pair of murder mystery-obsessed podcasters.
Joining them are Jodie Jacobs (Rock of Ages) as Felicia, TJ Lloyd (Guys and Dolls) as Justin, and Imelda Warren-Green (Doctor Who: Time Fracture) as Erica.
The following new cast will be joining the existing original company: Jacob Kohli (ensemble, cover Justin), Chelsea Hall (off stage swing) and Sarah Pearson (ensemble, swing).
The full creative team announced today includes Fabian Aloise as co-director and choreographer, Cecilia Carey as set and costume designer, Tingying Dong as co-sound designer, Dan Samson as co-sound designer, Peter Small as lighting designer, Charlie Ingles as orchestrator, Charlie Martin as associate director, Caitlin Morgan as associate musical director, Bethany Gupwell as associate lighting designer, Ed Borgnis as production manager, Inga Davis-Rutter as musical supervisor, Anna Dixon as costume supervisor, Charlotte King as props supervisor, Gillian Greer as dramaturg, Annelie Powell as casting director and Alice Walters as assistant casting director.
The stage management team will be Titch Gosling, Caoimhe Regan and Rosie Bannister. The musicians will be Laura Browne and Philip Williams.