Julia Donaldson and Axel Scheffler's The Baddies to receive premiere stage adaptation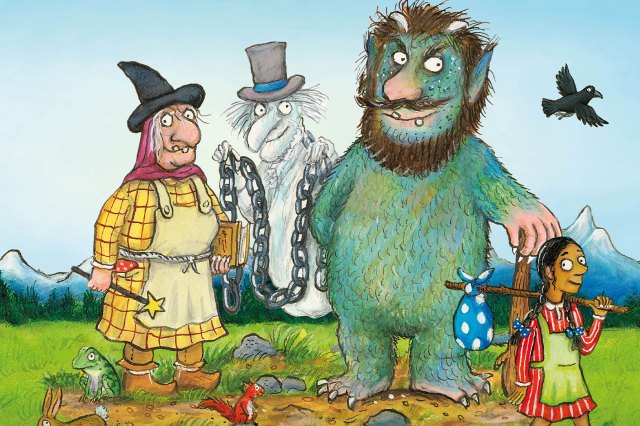 Julia Donaldson and Axel Scheffler's hit 2022 picture book, The Baddies, is heading to the stage next year.
The author and illustrator pairing are responsible for such notable titles as The Gruffalo, Room on the Broom, Zog and Stick Man among others, and many have already been adapted for the theatre.
The Baddies tells the story of a witch, a troll and a ghost who are on a mission to scare a girl out of her wits, but is she braver than they anticipated?
Featuring songs by Joe Stilgoe (Zog and The Flying Doctors), the piece will debut at the Royal Lyceum Theatre in Edinburgh (4 to 20 October 2024, with a press performance on 8 October) before heading to Warwick Arts Centre (26 to 27 October), and the Rose Theatre Kingston (29 October to 3 November). Further tour dates will be announced in due course.
Jennifer Sutherland from Freckle Productions commented: "Freckle are thrilled and excited to be working with David Greig and the Lyceum Theatre team to create The Baddies and premiere the show in such a beautiful theatre in the heart of Edinburgh."
Greig, artistic director of the Royal Lyceum Theatre, added, "The Lyceum is delighted to be working with Freckle Productions again, after the resounding success of Stick Man. We look forward to welcoming a whole new generation of theatregoers to the Lyceum with this Julia Donaldson classic."
Finally, Donaldson said, "I am delighted that The Baddies will be brought wickedly to life on stage next year in Edinburgh by Freckle Productions, who've done such fun and inventive things with Zog and Stick Man and my other characters over the years. I'm particularly happy that Joe Stilgoe, with his gift for catchy tunes and clever lyrics, has written the songs for the show, and I feel confident that the result will be a great night at the theatre for kids of all ages."
Casting and additional creative team information will be revealed at a later date, with tickets going on general sale on 31 October.