Javaad Alipoor: 'A lot of political theatre in this country isn't very good'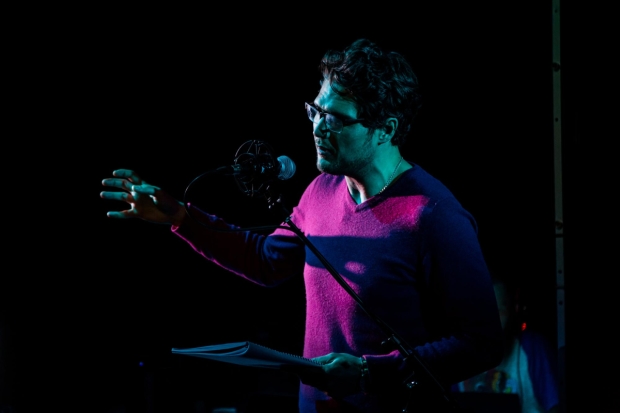 Director and theatre maker Javaad Alipoor's piece The Believers Are But Brothers is one of the successes of 2017's Edinburgh Fringe. Blending tech and live action to tell the story of three very different young men who are all radicalised on the internet in varying ways, it touches on the murky world of the dark web, Isis propaganda, alt-right groups, 4Chan and toxic masculinity. It is a play which examines our increasingly complex relationship with the internet and it got Alipoor a place on our faces to watch in 2018. Alipoor's work has taken him from Bradford, to associate director at Sheffield Theatres and now to the Bush Theatre in London where he is part of the theatre's vibrant new season. Ahead of the show's opening at the Bush and subsequent tour, Alipoor talks politics, the internet and how he's stepping up to work in a bigger auditorium when he stages One Flew Over the Cuckoo's Nest at Sheffield Crucible later this year.
---
How would you describe The Believers Are But Brothers?
It's a show that came out of my interest in how social media and digital technology is changing the way people think of themselves as political subjects. It's really about the intersection of digital technology, masculinity and extreme politics. The play follows the story of three men, who find themselves enmeshed in 'extreme politics', two of whom are British Muslims, one of whom is a white American boy from a much more middle class background.
What inspired you to create it?
It took me and my co-directors about 18 months to create it and part of the inspiration originally came from what I think the responsibility is of theatre makers in the 21st century. Two dimensional narratives are ubiquitous in our world and even those of us who are theatre makers and critics probably watch YouTube videos or HBO series even more than we see theatre. So I think the responsibility of theatre makers to examine questions that are about presence, that are about being together in a space, is sharper than ever. I'm also really interested in stories that are of mixed race origin and that slightly complicate the narrative around people of colour and Muslims.
Some of the things that are described in the piece are quite shocking, it made me think we should be teaching people about the internet in schools. Do you think so?
I agree. The problem is the quality of the conversation. We talk about how we do digital – but digital what? The NPOs [National Portfolio Organisations] all have to write digital strategies now and I have a joke that whenever you talk about digital to the old guard theatre makers it's like explaining rock and roll to the BBC board of governers in 1953. In general though, we are not yet having a serious conversation about the politics of the internet.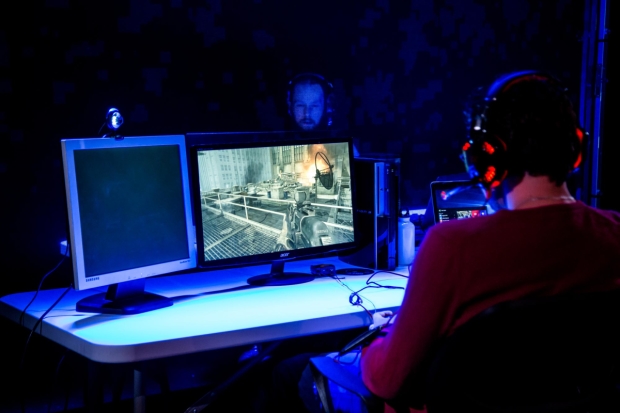 But the show does demonstrate the positives of the internet…
When we have a digital or internet conversation often it is foreboding, dark and dystopian, but actually all this stuff is quietly emancipatory – the demographics of who has access to technology has changed. The alt-right and 4Chan side of things is a reaction to the fact that women and people of colour are taking up a lot of space online.
You reference some particularly nasty chat rooms on 4Chan and the dark web – did you have to do research on the dark web?
I didn't use the actual dark web. Every section of the internet I talk about is dark, but you can find it without going onto the dark web.
Do you see yourself as a political activist or a theatre maker or both?
I was political before I was a theatre maker and I am still involved in political activism. The stuff I've been most connected to in recent years, for obvious reasons, is pro-migration and pro-immigrant, both in terms of trying to guarantee the rights of EU migrants in this country and refugees. There's a bit of a renaissance of political theatre in this country, some of which is cool, a lot of which I think is not very good. I think it's really important to be involved politically and for that to inform the work, but if your politics is that you're making a show about something, that's just a really expensive way of giving a speech.
Were you surprised at how much the show took off after Edinburgh?
Edinburgh is a beautiful and terrible place. I think if you take a show to Edinburgh you have to be really clear about what you want to get from it. I felt ready to try to go from being a northern artist to being a national and international artist. We were in Summerhall, in the space that Northern Stage curate and there were fairly decent guarantees and support given. I think if we hadn't had that support I wouldn't have gone.
How does it feel to be performing the show at the Bush?
It feels really good for a couple of reasons. One is that when you look at the season, ours is not the 'diverse' show, it's absolutely at the mainstream of what they are doing. On a personal note, my journey into being a professional artist came out of meeting Madani Younis [now the Bush artistic director] in Bradford when he was running the Asian Theatre School.
You are staging One Flew Over the Cuckoo's Nest later in 2018, why that piece?
Working with Sheffield Theatres has been brilliant and I've been able to provoke some stuff around how the institution could reflect contemporary Britain a bit more. Both Rob Hastie [Sheffield Theatres artistic director] and I were really keen to find a show that would go in the big main space and speak to everything that demands but also something that spoke to my concerns too. The play is a blockbuster, and there's a whole bunch of stuff about masculinity and the limits of reason in there. And when you scratch the surface in terms of its racial, gender and ethnic politics, it is a really complicated thing.
Is it the biggest space you've worked in so far?
It is, I veer between terror and excitement. One of the most difficult things for artists to do is managing between the scales of theatres. So there are lots of artists who spend years working in studios but aren't able to scale up work. That's changing a bit now. For me, our institutions and industry will be at its most contemporary when what is seen as separate disciplines: edgy small stuff and big major text spaces – are able to fertilise each other.
The Believers Are But Brothers runs at the Bush Theatre from 24 January to 10 February. It then tours to Northampton and Newcastle upon Tyne.