James and the Giant Peach (Stevenage)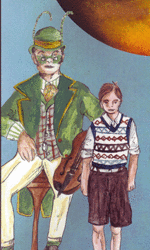 Musical and visual variations are what we get with the Gordon Craig Theatre's new Easter production. It's directed by Catherine Lomax and has a spanking new score orchestrated by Stephen Kingsbury.
Robert Cousins leads the band with fiddle interjections from André Refig's crisp Grasshopper. Andy Newell's set design uses projections as well as slightly cartoonish pieces of scenery for the all-important peach and the aunts' rickety hilltop home.
Those two thoroughly unpleasant relations are Louisa Roberts as Sponge and Olivia Holland-Rose as Spiker and their knockabout duet is something of a show-stopper.
As James, Ryan Owen has the audience, regardless of age, on his side from the beginning. His insect friends are a delightful collection of oddities wearing some clever costumes (Lisa Hickey). Caroline Rodgers' Spider, slinky in 1930s-style black with a bustle of legs to finish it off, and Laura Crowhurst's cuddly Ladybird with her oversize bloomers are particularly effective.
Mathew Waters is the multi-footed centipede who really just wants to show off his tap-dancing skills and Paul Critoph makes the blind Earthworm both vulnerable and authoritative.
The choreography devised by Khiley Williams is intricate, both for the principals and for the energetic teams of juveniles who double up as young tourists and later as an oceanful of predatory sharks.
James and the Giant Peach runs at the Gordon Craig Theatre, Stevenage until 20 April.